Mohammed, Salman witness Northern Thunder exercises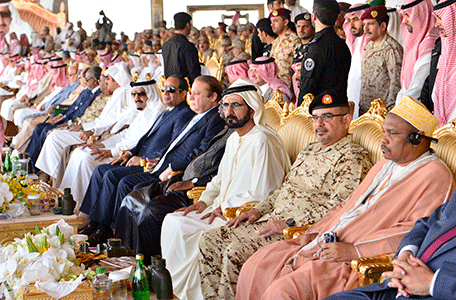 His Highness Sheikh Mohammed bin Rashid Al Maktoum, Vice President and Prime Minister of UAE and Ruler of Dubai, and the Custodian of the Two Holy Mosques, King Salman bin Abdulaziz Al Saud, alongside a number of defence leaders and officials from allied countries, today witnessed the conclusion of the Northern Thunder Exercise, which began on February 14th, near King Khaled Military City in northeastern Saudi Arabia.
The UAE Armed Forces participated in the exercise, along with 19 other armies of brotherly and friendly members of the international anti-terrorist coalition, as part of the wise leadership's efforts to build bridges of communication, exchanges of experience, and military skills.
The exercise displayed military disciplines of artillery, tanks, infantry, air defence systems, warships, and naval forces, with the participation of nearly 350,000 ground troops.
His Highness Sheikh Mohammed bin Rashid praised the expertise of the troops who participated in the air, land and sea exercises, saying, "This group of our armed forces enjoy the advantages of combat and military skills, and morale is very high. They are the vanguard against challenges, no matter how hard, which have increased the threat to peace and to regional and international security."
Sheikh Mohammed expressed his confidence in the capabilities, the courage of the officers and soldiers of the UAE armed forces, and praised their combat skills along with those of their brothers and colleagues in the participating armies to achieve military superiority in the field.
He went on to say, "One victory is not enough to defeat and root out terrorism because it would be temporary, whereas superiority lasts forever and that is what we plan to do as leaders in the UAE, to achieve superiority on many levels and in all fields of military, developmental, humanitarian, political and economic."
Follow Emirates 24|7 on Google News.