Mohammed tours Arab Health Exhibition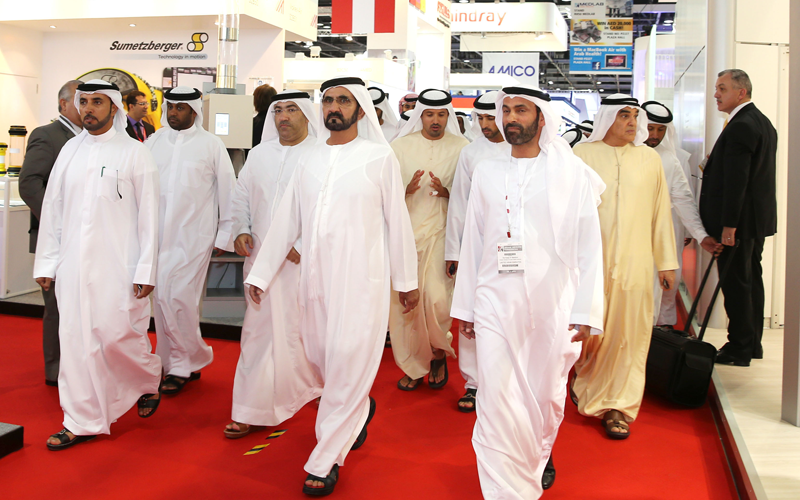 His Highness Sheikh Mohammed bin Rashid Al Maktoum, Vice President and Prime Minister of the UAE and Ruler of Dubai, toured on Tuesday the 38th Arab Health Exhibition and Congress, the Middle East's largest healthcare event, which takes place from 28-31 January at the Dubai International Convention & Exhibition Centre.
Sheikh Mohammed, flanked by Sheikh Hamdan bin Mohammed bin Rashid Al Maktoum, Crown Prince of Dubai, and Sheikh Maktoum bin Mohammed bin Rashid Al Maktoum, Deputy Ruler of Dubai, stopped at several stands of exhibitors to acquaint himself with wide range of health and medical leading edge solutions, products, services and technological innovations and industry insights.
At the GE Healthcare's stand, Sheikh Mohammed was shown the 'Silent Scan MR' which the company is showcasing for the first time in the Middle East. The imaging device reduces MR system noise to near ambient levels for better patient comfort.
As he toured stands, Sheikh Mohammed shook hands with CEOs of exhibiting companies and talked with them about their latest launches of health products.
Sheikh Mohammed said specialised international conferences and exhibitions provide an economic push for the local economy and enable health professionals of the UAE and the region to gain knowledge and expertise.
Sheikh Ahmed bin Saeed Al Maktoum, Chairman of Dubai Aviation Authority and Chairman of Emirates Group, Abdul Rahman Mohammed Al Owais, acting Minister of Health, Eisa Al Maidour, Director General of Dubai Health Authority, and a number of top health officiala, also accompanied Sheikh Mohammed during the tour of the exhibition.
The four-day event, which runs until the end of this week, is in its 38th year and is the largest event in the region and the second largest in the world. Featuring over 3,500 exhibitors from 63 countries and more than 7,500 conference delegates, it is attended by more than 80,000 healthcare professionals as they aim to tackle the growing diverse health issues across the Middle East ranging from the increasing demand for healthcare services, growing healthcare costs and the increase of lifestyle diseases in the region.
Arab Health Exhibition and Congress 2013 provides a platform for the world's leading manufacturers, wholesalers and distributors to meet the medical and scientific community in the Middle East and beyond. Arab Health is projected to welcome more than 100,000 visitors from across the globe.
Follow Emirates 24|7 on Google News.