NMC examines expansion of media sector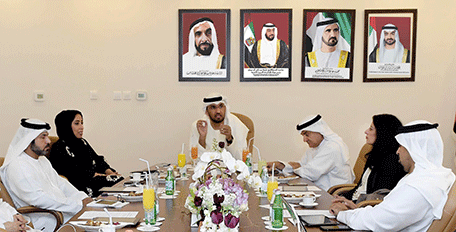 The board of directors of the National Media Council, on Sunday, examined developments and progress of executive plans for developing the country's media sector.
Chaired by Dr. Sultan bin Ahmad Sultan Al Jaber, Minister of State and chairman of the NMC board, the officials discussed the NMC's implementation of recently-set prioritised goals, namely the management of the country's international image and defending its achievements and ambitions.
The meeting was attended by Mona Ghanem Al Marri, Director-General of Dubai Government's Media Office; Ahmed Al Jarman, Assistant Minister of Foreign Affairs and International Development for Political Affairs; Dr. Amina Al Rustamani, Chief Executive Officer of Tecom Group; Saeed Al Miqbali, Adviser at the Ministry of Presidential Affairs; Mansour Al Mansouri, Director-General of the NMC, and Ibrahim Al Abed, Adviser to Director-General of the NMC.
Al Jaber highlighted the importance of developing specialised human resources in the media sector in co-ordination with media organisations.
He also stressed that more opportunities should be created for nationals to lead media organisations and at the same time executive leaders should be prepared to take over the helm of national media.
The participants praised Dubai Media Inc. for empowering nationals to take its leading positions.
To enhance media awareness of the youth, the NMC, in collaboration with the UAE University, is conducting a survey of young people's sources of information and news about current events, including traditional media, social media and new media.
Results will be analysed to hammer out plans to bolster credible sources of information and reduce the impact of incredible and non-objective sources of truth.
As part of its Emiratisation plan, the NMC has been working to increase the number of Emiratis in leading positions in the national media sector.
Participants also examined preparations by the NMC and WAM to highlight the first Mother of the Nation Festival, to be held from 24th March to 2nd April in Abu Dhabi to celebrate the vision and far-reaching contributions of Sheikha Fatima bint Mubarak, Chairwoman of the General Women's Union (GWU), Supreme Chairwoman of the Family Development Foundation (FDF) and President of the Supreme Council for Motherhood and Childhood.
The event will highlight Sheikha Fatima's crucial role in promoting global tolerance and instilling the values of cultural diversity among all members of the society, Dr. Al Jaber noted.
Members of the NMC board viewed updates on initiatives about the UAE Reading Year and issued a directive to ensure that the goals of designating 2016 as the reading year in the country are achieved.
Dr. Al Jaber underscored the importance of implementing the initiatives to promote reading as a lifestyle and part of daily activities of individuals to promote awareness and combat subversive and misleading thought.
Follow Emirates 24|7 on Google News.