Obama: US proud to partner with UAE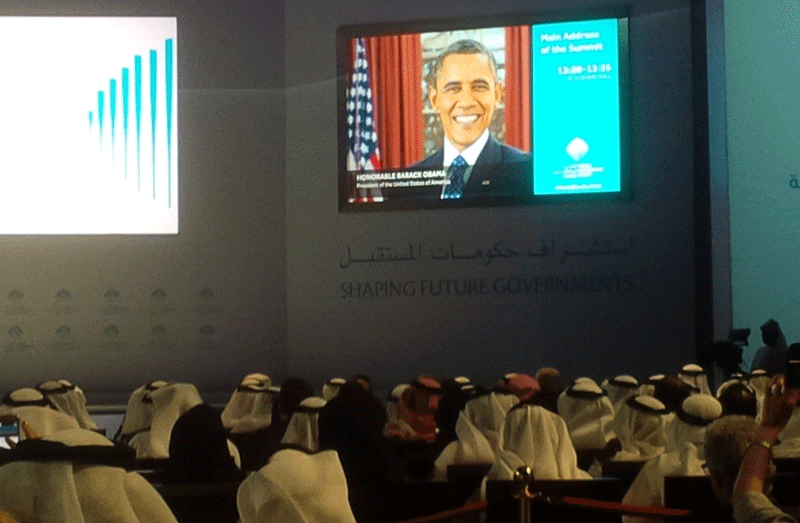 In a televised address at the ongoing World Government Summit, US President Barack Obama stated its country, including its private sector, was proud to partner with the UAE.
Referring to the UAE's commitment to eGovernment and innovation, President Obama added cited the first line of the US constitution, adding that governments exist only to serve its people.
He said: " I commend His Highness Sheikh Mohammed bin Rashid Al Maktoum and the UAE to invite me to address the World Global Summit.
"Governments exist for one reason, and that is to serve our people and to help improve their lives.
"When governments truly invest in their citizens, in their skills and healthcare, when universal human rights are upheld, those countries are more peaceful, more prosperous and more successful."
President Obama spoke about the turmoil facing this region over the past few years, saying: "We have seen across the Middle East when governments do not lift up their citizens, it's a recipe for instability and strife.
"When I hosted the GCC meeting at Camp David, we discussed true everlasting security requires inclusive governance that serves all citizens.
"Here in the UAE, your commitment to eGovernment and innovation and its focus on healthcare, empowering entrepreneurs and clean energy, has made the US and its private sector proud to be your partner."
"When governments listen it its people, that is how we move forward."
President Obama stated the UAE and the US can learn from each other, while adding: "I have a message for this region: those embracing reform will continue to have a partner and a friend in the US.
"The US is proud to participate in the World Government Summit."
Follow Emirates 24|7 on Google News.