Plans for major new 'Museum of the Future' in Dubai launched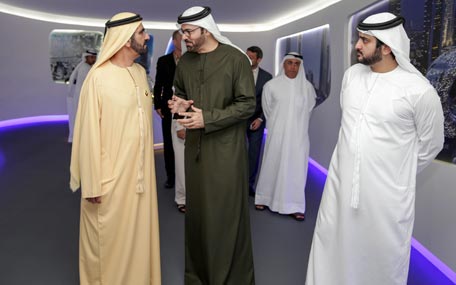 His Highness Sheikh Mohammed bin Rashid Al Maktoum, Vice-President and Prime Minister of the UAE and Ruler of Dubai, on Wednesday launched plans for a new 'Museum of the Future' that will actively produce futuristic inventions and support the UAE's mission to be a global innovation engine.
Wam
As well as providing a permanent home for the world's greatest innovations, the museum will work to stimulate and incubate imaginative solutions to the challenges of future cities. It will bring together the brightest researchers, designers, inventors and financiers under one roof. This integrated environment will empower these creative minds to test, fund and market their ideas for futuristic prototypes and services.
Wam
Speaking at the launch ceremony, Sheikh Mohammed bin Rashid said, "His Highness Sheikh Khalifa bin Zayed Al Nahyan, our President, has declared 2015 to be the year of innovation in the UAE. Today we show how serious and committed we are to that mission by turning the UAE into a major international destination for innovators."
Wam
The museum's motto 'See the future, create the future' reflects a new approach to government innovation. Rather than just displaying exhibits or publishing reports, the new institution will use design, technology prototyping and foresight to create real examples of change. The museum is the first of its kind, and represents a leading example of entrepreneurial governments embracing change and creating futuristic visions for a better world.
Wam
"The future belongs to those who can imagine it, design it, and execute it. Here in the UAE we think differently. While others try to predict the future, we create it," Sheikh Mohammed bin Rashid said.
Wam
Headed by Sheikh Hamdan bin Mohammed bin Rashid Al Maktoum, the board of trustees will include several high-profile national figures with Mohammed Al Gergawi acting as its vice president. A large endowment will guarantee its continuation for generations to come.
Wam
The museum will be located in the Emirates Towers area near Sheikh Zayed Road in Dubai, and will open in 2017. Visitors will be able to experience the future through cutting-edge simulations and interactive demonstrations.
Wam
The structure will incorporate bespoke technology including major sections built using 3D printing construction techniques. Its striking architecture will help the museum to stand out as a destination for those seeking inspiration.
Wam
The museum will host a group of innovation labs focusing on health, education, smart cities, energy and transport in addition to a permanent section on future innovations in all fields. It will provide a platform to demonstrate and test the latest inventions from world-leading tech giants and up-and-coming start-ups, as well as collaborations between companies and leading research institutes and universities.
Wam
The creation of the museum reflects Sheikh Mohammed's vision that a new approach is required for fast-moving, dynamic, and uncertain times in order to create long-lasting innovations that benefit both organisations and society.
Wam
Design-led and future-orientated experimentation is an increasingly important capability for governments and the private sector. The 'Museum of the Future' is founded on the concept that the best way to create these innovations is through forward-looking, design-led technology experimentation and prototyping.
Wam
The museum will hold scientific conferences and offer advanced courses and specialised workshops on design and innovation covering the latest scientific developments, trends and designs as well as their practical applications.
Wam
It will contribute strongly to education by developing new curricula and novel approaches to design, innovation and entrepreneurship for students all over the world, in collaboration with the brightest and most experienced experts.
Wam
Once fully functioning, the museum will become a major centre for anticipating future trends in all scientific and technological fields, collaborating with governments from all over the world to develop solutions for their current and future work and service challenges.
"The world is entering a new era of accelerated knowledge and great technological revolutions. We aim to lead in that era, not to follow and lag behind. The 'Museum of the Future' is the first step of many to come, marking the beginning of great achievements," Sheikh Mohammed bin Rashid said.
Mohammed forms board of directors of Dubai Healthcare City Authority

In his capacity as Ruler of Dubai, His Highness Sheikh Mohammed bin Rashid Al Maktoum, Vice-President and Prime Minister of the UAE, has issued Resolution No. 4 of 2015 forming the Board of Directors of Dubai Healthcare City Authority chaired by Princess Haya bint Al Hussein, wife of Sheikh Mohammed bin Rashid Al Maktoum.

The term of the new board is three renewable years and includes Raja Easa Saleh Al Gurg as Vice Chairman and membership of Abdul Rahman Al Owais, Seham Aldeen Kaldari, Khalid Mohammed Abdullah Al Zahid, Ayoub Abdullah Badri, Adnan Mohammed Abu Hamour, Shawqi Mir Hashem Khoory and Narat Mohammed Khair Mamsar.

The resolution is considered active from 19 December, 2014 and to be published in the Official Gazette.
Mohammed bin Rashid attends international police brainstorming session

His Highness Sheikh Mohammed bin Rashid Al Maktoum, Vice President and Prime Minister and Ruler of Dubai, attended a brainstorming session held as part of ongoing 10th International Symposium for Best Police Practices organised by Dubai Police at Armani Hotel in Dubai.
In presence of Sheikh Mohammed and Lt. General Sheikh Saif bin Zayed Al Nahyan, Deputy Prime Minister and Minister of the Interior, international police experts discussed different topics related to best practices of police services.
Sheikh Saif said the symposium represented an opportunity to share insights about the the common goal of maintaining security and stability and building safe communities for the future.
"It is important that we join force to fight cross-border crimes like terrorism, drug trafficking, money laundering and cyber fraud," he added.
The session was also attended by Lt. general Saif Abdullah Al Sha'far, Under secretary of the Interior Ministry, Lt. general Dahi Khalfan Tamim, Deputy Chairman of Dubai Police and Public security, Major general Dr Nasser Likhraibani Al Nuaimi, Secretary General of the Deputy Prime minister & Interior Minister's Office, Major General Khamis Matar Al Mazina, Commander General of Dubai Police and a number of senior police officers.
At the beginning of the session, presided over by Sheikh Saif, Colonel Dr. Gaith Al Suwaidi, Director General of Dubai Police Academy presented a briefing about topics of discussion in the session which saw participation by experts from the United States, China, the United Kingdom, Australia, France, Taiwan, the Caiman Islands, Italy and the Netherlands.
Lt. General Saif Al Sha'far chaired a panel on 'road deaths and traffic congestion' which was moderated by Major General Mohammed Saif Al Zafeen, Dubai Police Assistant Commander General General for Operations.
A panel chaired by Lt. General Dahi Khalfan and moderated by Dr. Mansour bin Al Shaikh, tackled security implications of social media channels.
Major General Al Mazina chaired a panel on the 'perils of drugs, while Major General Al Nuaimi chaired a panel on terrorism.
Follow Emirates 24|7 on Google News.