Princess Haya launches College of Medicine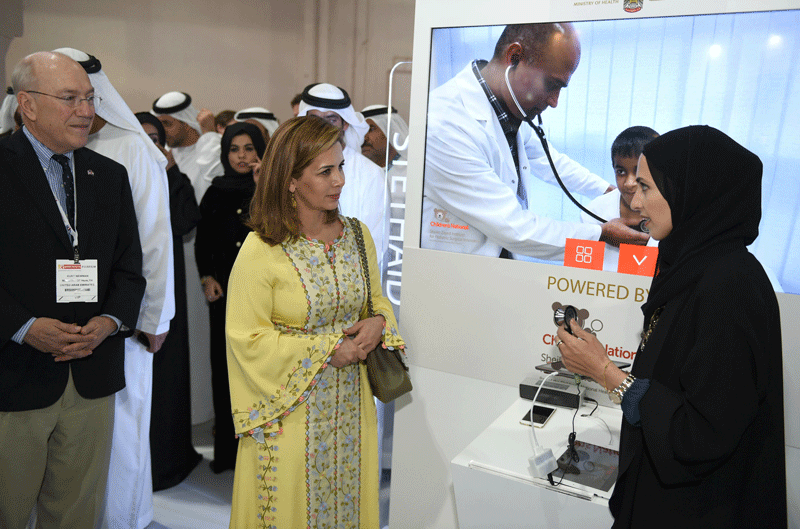 Wife of His Highness Sheikh Mohammed bin Rashid Al Maktoum, Vice President and Prime Minister of the UAE and Ruler of Dubai, and Chairperson of Dubai Healthcare City Authority Princess Haya Bint Al Hussein, today (Thursday) officially launched the College of Medicine and its degree programme for medical undergraduates at the Mohammed bin Rashid University of Medicine and Health Sciences (MBRU).
Princess Haya, who launched the College of Medicine when visiting the Dubai Healthcare City pavilion at Arab Health Exhibition and Congress 2016, was joined by Abdul Rahman Mohamed Al Oweis, Minister of Health; Dr Amer Sharif, CEO, Dubai Healthcare City Authority – Education; Dr Alawi Alsheikh-Ali, Dean of the College of Medicine; and other MBRU members.
The College of Medicine will open applications on January 31, 2016 for its six-year Bachelor of Medicine and Bachelor of Surgery (MBBS) programme for the academic year beginning September 2016. Applications should be submitted prior to March 31, 2016.
Accredited by the UAE Ministry of Higher Education and Scientific Research (MOHESR), and in partnership with Queen's University Belfast, 50 seats are available for candidates seeking admission based on key academic criteria.
Dr Raja Al Gurg, Vice-Chairperson and Executive Director of Dubai Healthcare City Authority, said, "By providing high-quality undergraduate education, we put in place a plan to ensure the continued evolution and growth of the healthcare workforce. There has been dedicated effort and enthusiasm into the establishment of the Mohammed Bin Rashid University of Medicine and Health Sciences and its Colleges."
Dr Al Gurg added, "We are excited about welcoming our first intake of medical students who will benefit from the University's academic and clinical partnerships. We look forward to seeing our students gain insight into medical practice as they build on their education to take their rightful place at the forefront of healthcare excellence."
With an emphasis on quality, innovation and creating an ideal environment for students to learn and grow, MBRU aims to uplift the standards of medical education, healthcare and research in the UAE and the region. Located in the Mohammed Bin Rashid Academic Medical Center in Dubai Healthcare City, one of the University's primary goals is to reverse the trend of seeking medical education overseas by providing quality medical education closer to home.
Dr Sharif said, "Opening applications for the Bachelor of Medicine and Bachelor of Surgery programme is a momentous occasion. Through this programme, we are training students from the UAE to lead innovation and research in medicine, to prepare them for top tier postgraduate programmes and to nurture quality and innovation in medicine in the region."
Dr Alsheikh-Ali said, "Students interested in a career in medicine will benefit from the teaching approach that focuses on instructional and institutional excellence and innovation. The College of Medicine at MBRU aims to provide integrated medical education and research that is nationally responsive and globally connected."
Follow Emirates 24|7 on Google News.