Princess Haya visits school in Ajman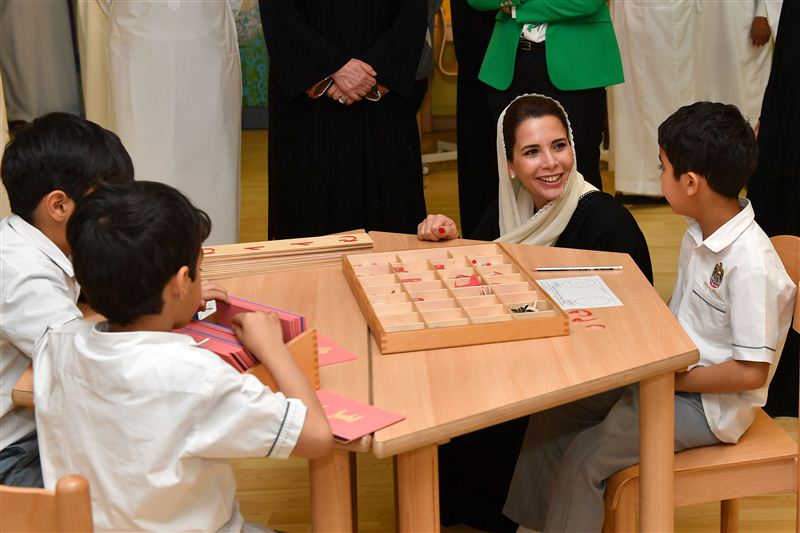 Princess Haya Bint Al Hussein, wife of Sheikh Mohammed bin Rashid Al Maktoum, Vice-President and Prime Minister of the UAE and Ruler of Dubai, today visited an INDEMAJ Learning and Resource Center (LRC) in Al Musherif Model School for Boys in Ajman.
Accompanying Princess Haya were Abdul Rahman Al Hammadi, Under Secretary Ministry of Education representing HE Eng.
Hussein Al Hammadi, Minister of Education, and the sponsors of INDEMAJ's project in Al Musherif Model School for Boys in Ajman, Fahad Abdulsalam Rafi and Alia Abdulsalam Rafi as well as INDEMAJ's Board of Trustees and other officials from the Ministry of Education.
"We are very pleased that Princess Haya visited another one of our Learning and Resource Centers, this time in Al Musherif Model School for Boys," said Hanne Al Gurg, CEO of INDEMAJ.
"We are very grateful for Her ongoing commitment and support of INDEMAJ, and we remain very inspired by Princess Haya's drive for excellence and quality education. Under Her direction, all 34 of our Learning and Resource Centers have proven attractive learning environments for students of all skill levels and learning abilities. We are very proud of our results, and even more so, our students."
As part of the visit, Princess Haya, who is Chairperson of INDEMAJ's Board of Trustees, was given the opportunity to interact with students in the Learning and Resource Center, which enables students to learn independently as well as collaboratively with their peers through the use of technologies and resources.
The layout of the LRC is based on a corner system which empowers teachers to facilitate student centered learning instead of teacher led learning, the norm in regular classrooms.
The availability of technology and learning resources helps students develop the four 'C' skills – critical thinking, creativity, collaboration, and communication. Creating such a stimulating environment, and making such resources available for the students, plays an immense role in supporting those who have learning difficulties and special needs.
An essential part of INDEMAJ's projects is to provide professional development training for teachers, equipping teachers with the necessary skills for implementing modern teaching practices with a holistic approach.
Established in 2009, INDEMAJ is a non-profit organization that aims to strengthen education across the UAE. It supports key stakeholders in the community to develop educational services in UAE Government schools.
INDEMAJ's vision is to enable all children in the UAE, especially those with special needs, to reach their full potential and become effective participating citizens of a global productive society.
As a result of Al Gurg and her team's dedication and commitment, the UAE has seen almost 16,000 students benefit from INDEMAJ's Learning and Resource Centers.
Follow Emirates 24|7 on Google News.