Sharjah Ruler attends opening ceremony of Arab Poetry Festival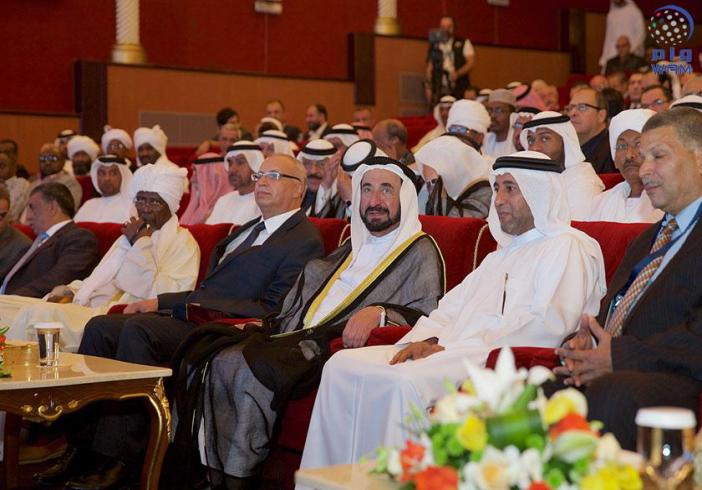 Dr. Sheikh Sultan bin Mohammed Al Qasimi, Supreme Council Member and Ruler of Sharjah, attended the 15th edition of the Sharjah Arab Poetry Festival, which kicked off on Sunday with the participation of elite poets from the UAE and the Arab World.
Supported by the Ruler of Sharjah, the festival, which will run until January 13, is organised by Bait Al Shi'r (House of Poetry) of the Sharjah Department of Culture and Information.
The ceremony started with a documentary on the beginnings of the foundation of Sharjah Poetry House in 1997 and focused on the how it has become the nucleus of the Arab Poetry Festival.
Another documentary highlighted Sharjah's giving and its leadership's wise and prudent initiatives of establishing poetry houses in the various Arab countries.
The documentary also highlighted the impacts of these poetry houses on the poets in countries which have already had them such as Jordan, Egypt, Mauritania and Tunisia, Morocco and Sudan.
Following the documentaries, Sheikh Sultan honoured personalities of the festival: Mohey Eddin Al Fateh from Sudan and Emirati poet Ibrahim Mohammed Ibrahim.
At the close of the first evening of the Arab Poetry Festival, Sheikh Sultan received a commemorative shield from the Moroccan Ministry of Culture in recognition of his great role in patronising and supporting the Moroccan poets by establishing a poetry house in Morocco's Tatwan City. They also presented Sheikh Sultan with a book that documents the historic and heritage sites in Morocco.
Follow Emirates 24|7 on Google News.