Sheikh Mansour: 'Arab governments must play active role in youth development'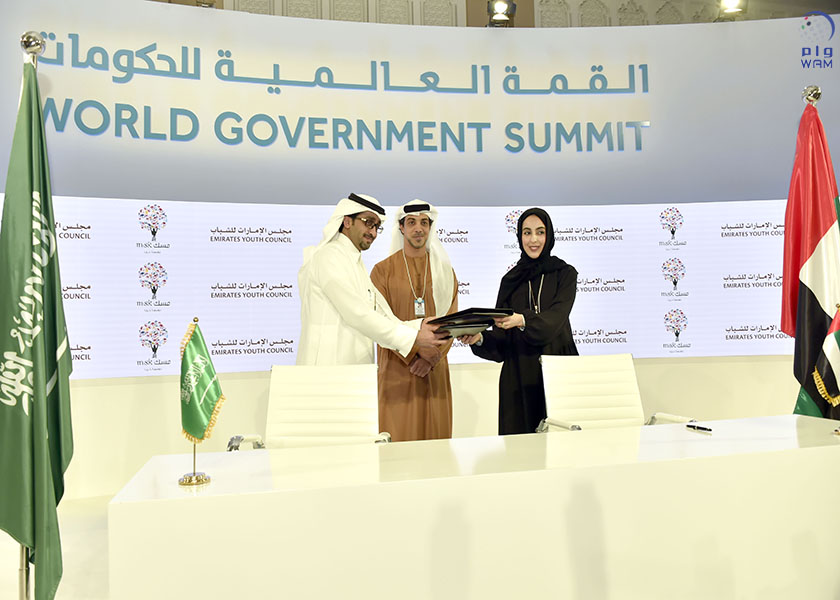 Sheikh Mansour bin Zayed Al Nahyan, Deputy Prime Minister and Minister of Presidential Affairs, attended today signing of two Memorandums of Understanding on the sidelines of the World Government Summit in Dubai.
The first MoU was signed between the Emirates Youth Council (EYC) and the Prince Mohammed bin Salman bin Abdul Aziz Foundation (MISK), which provides for cooperation to empower talents and to motivate the Saudi and Emirati youth to innovate in the areas of education, knowledge, entrepreneurship and social work.
Sheikh Mansour said the Arab governments and institutions must play an active role in creating a real development for the youth.
"This cooperation seeks to unify efforts to serve the youth in both Saudi Arabia and the UAE. We trust that the two brotherly countries share a mutual vision for a bigger role for the youth," he added.
Shamma bint Sohail Faris AlMazrui, Minister of State for Youth Affairs, described the MoU as a real boost to the initiatives aimed at empowering the youth in both countries in the areas of technology, sustainability, innovation and future career paths.
Badr Al Asakir, Secretary General of MISK, said the Foundation's cooperation with the UAE provides opportunities for exchange of expertise and knowledge and in improving levels of innovation.
Sheikh Mansour also attended signing of an MoU between the EYC and the Jordanian Crown Prince Foundation.
Following the signing, Shamma Al Mazrui said the MoU culminates the mutual keenness to build bridges of communication among the youth organisations in the Arab world.
Follow Emirates 24|7 on Google News.