Sheikh Mohammed approves 'Dubai Cruise Terminal' as main hub for cruise tourism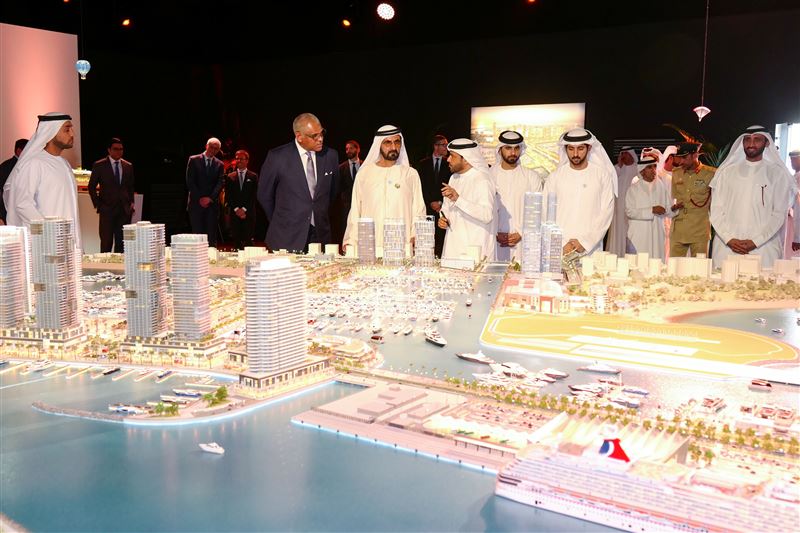 His Highness Sheikh Mohammed bin Rashid Al Maktoum, the Vice President, Prime Minister and Ruler of Dubai, said that mega projects being implemented in the UAE are reinforcing the country's profile globally as a model for sustainable growth driven by diversification, innovation and productive partnerships with the private sector.
His Highness also said the tourism sector is key to the development of the UAE's economy, due to the value it adds to key projects and its ability to attract millions of visitors every year. "We welcome visitors from across the world and provide them with an exceptional tourism experience. We want them to leave with lasting memories that they can share in their countries and communities. The continuous development of infrastructure has enabled our country to be a destination of choice in the region. Supported by the talent and creativity of our people, I am confident that we will be able to establish global leadership in several sectors. The UAE will continue to be a symbol of progress and prosperity," Sheikh Mohammed bin Rashid added.
Sheikh Mohammed's remarks came as he approved the 'Dubai Cruise Terminal' as the main hub for cruise tourism in Dubai. His Highness also attended the signing ceremony of a strategic partnership agreement between Meraas and Carnival Corporation that aims to transform Dubai into a major regional maritime tourism hub.
The event was attended by H.H. Sheikh Hamdan bin Mohammed bin Rashid Al Maktoum, Crown Prince of Dubai and Chairman of Dubai Executive Council, and H.H. Sheikh Mansour bin Mohammed bin Rashid Al Maktoum.
Under the agreement, signed by Abdulla Al Habbai, Group Chairman of Meraas, and Arnold W. Donald, Chief Executive Officer of Carnival Corporation, the companies will collaborate across several strategic areas including port development, terminal management and new cruise development opportunities at Dubai Harbour and the broader region.
Dubai is set to become central to Carnival Corporation's operations in the region. The agreement mandates Carnival Corporation to assist Meraas in ensuring the cruise terminal meets the highest international standards of the cruise industry, while the relevant authorities will be responsible for security, immigration and customs.
The agreement highlights Meraas' support for Dubai Tourism Vision 2020, which aims to attract 20 million visitors a year to the emirate, and strengthens the company's contribution to Dubai Plan 2021, the strategic roadmap to establish Dubai among the world's best cities.
Operations at the 'Dubai Cruise Terminal' are scheduled to commence in October 2020. Following discussions with Sultan Ahmed bin Sulayem, Group Chairman and Chief Executive Officer of DP, it was agreed on 26th March 2018, that 'Dubai Cruise Terminal' will become the main cruise terminal in Dubai and all cruise ships visiting Port Rashid will be redirected gradually from its opening date.
Commenting on the signing of the agreement, Al Habbai said, "The development of the 'Dubai Cruise Terminal' reflects Meraas' commitment to implementing the vision and strategic plans of His Highness Sheikh Mohammed bin Rashid Al Maktoum to enhance Dubai's global standing as a world-class business and leisure tourism destination. Dubai Harbour is a new and unique addition to the city's infrastructure and our alignment with DP World to make 'Dubai Cruise Terminal' the main cruise terminal in the emirate will drive the transformation of Dubai into a fully integrated maritime tourism hub."
He added, "In line with the agreement with Carnival Corporation, the cruise hub at Dubai Harbour will reinforce Dubai's status as an ideal holiday destination, a starting point for cruises to exclusive destinations and a gateway to exploring the world. Our partnership will enhance the city's tourism offering with new options for families, such as sharia-compliant tours."
Al Habbai also noted that the new agreement presents an opportunity to attract experts from all over the world to share experiences and exchange knowledge, reinforcing Dubai's position among the best cities in the world. From an economic perspective, the move will boost the volume of inbound tourism to Dubai and develop new economic sectors, which will create employment opportunities for UAE citizens and residents in key areas, such as catering, entertainment and the maritime sector.
According to the Cruise Lines Industry Association, CLIA, more than 40 million people worldwide will travel on cruise ships annually by 2030, marking a 40 percent increase from 26 million passengers in 2017. At a local level, the maritime tourism sector is expected to contribute more than AED1.5 billion to Dubai's economy by 2030.
The 'Dubai Cruise Terminal' at Dubai Harbour will become Carnival Corporation's primary hub for its homeporting and transit operations in the region. The partnership will also result in both parties working together to identify and grow the cruise tourism business in the Arabian Gulf region.
Speaking on the agreement, Donald said, "We have a long history in Dubai with our world-leading cruise brands. We are excited to be part of this important venture that will drive new tourism opportunities for Dubai and the region through cruising."
As Dubai transforms into a regional maritime tourism hub, residents of the GCC region and the wider Arab world will be able to enjoy premium cruises at competitive prices. To achieve this priority and attract tourists from new markets, discussions have taken place with Emirates to develop a strategy and devise tailored tour packages and offers to support the growth of this emerging sector.
Carnival Corporation will launch new cruises from Dubai Cruise Terminal and aims to attract new source markets from India and China. The cruise terminal is designed as a strategic maritime centre, providing easy access to and from the city, while offering passengers an unparalleled view of iconic landmarks, such as Ain Dubai and the upcoming Dubai Lighthouse, as well as the Dubai's stunning urban skyline.
Dubai Harbour will be home to two cruise terminal buildings, spanning a total of 30,000 square metres, joined by a single quay of about one kilometre, capable of accommodating up to three cruise ships concurrently, including Carnival Corporation's newest and most advanced cruise ships and XL class ships, as well as up to 13,200 passengers at a time. In anticipation of an upsurge in cruises, Meraas has planned for the addition of two more terminal buildings that will increase capacity to six cruise ships at the same time.
Launched in January 2017 by Sheikh Mohammed bin Rashid Al Maktoum, Dubai Harbour will be located on King Salman bin Abdulaziz Al Saud Street in the Mina Seyahi area and is set to span 20 million square feet. The development will feature a shopping mall, luxury residential units, restaurants, cafés, hotels and a yacht club, as well as Dubai Lighthouse, a 135-metre high architectural masterpiece with a viewing platform offering stunning panoramic views of Dubai.
In addition, Dubai Harbour will boast the largest yacht marina in the Middle East and North Africa with 1,100 berths capable of accommodating some of the world's largest yachts up to 150 metres. Its diverse infrastructure will include an extensive road network, as well as marine and air transportation facilities, a monorail line, a bridge to Bluewaters and water taxi stations.
The project is being developed in phases and will create synergies with some of Dubai's other iconic projects located in the area, including Bluewaters.
Follow Emirates 24|7 on Google News.