Sheikh Mohammed attends the launch of Customers' Happiness Factory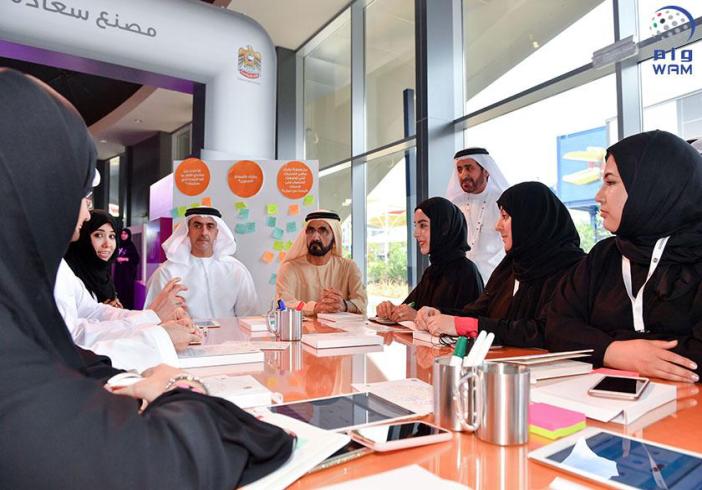 Vice President and Prime Minister of the United Arab Emirates and Ruler of Dubai His Highness Sheikh Mohammed bin Rashid Al Maktoum attended today the launch of "Customers' Happiness Factory" in Dubai.
His Highness said that he wants government entities to be the best in the world in term of the services they provide within two years. Adding that he expects a comprehensive governmental movement based on the acquired experiences to develop their services through innovative ways. "I will follow the progress myself, and we want double the efforts along with team work spirit which is represented by the UAE government. We want to celebrate together once the two years period is over and we achieved our target of being number one in the world in term of government services," His Highness said.
The Customers' Happiness Factory aims to develop eight joint governmental services packages that revolve around the happiness of customers, simplifying procedures and slashing time, efforts and cost. The Emirates Programme for Excellence in Government Services is in charge of the project. The eight packages include: "package for new parents" facilitating the issuance of birth certificates and ids in only two steps, "my future package" for students studying overseas, "my experience" for job seekers, "my marriage" for newly-wed and aims to facilitate pre-nuptial procedures, "emergency response package" dedicated to provide services in emergency cases, and the "Thank you package" for retirees. "My business package" is dedicated to business sector and aims to improve the competitiveness of the UAE, in addition to a special package for new comers to the UAE to work who will benefit from "Sahala package", which simplify and regulate the employer-employee relationship.
Present during the launch were H.H. Sheikh Maktoum bin Mohammed bin Rashid Al Maktoum, Deputy Ruler of Dubai, Lt. General H.H. Sheikh Saif bin Zayed Al Nahyan, Deputy Prime Minister and Minister of the Interior, Mohammed Al Gergawi, Minister of Cabinet Affairs and the Future, Ohood bint Khalfan Al Roumi, Minister of State for Happiness, along with a number of senior government officials.
Follow Emirates 24|7 on Google News.