Sheikh Mohammed awards Sheikha Fatima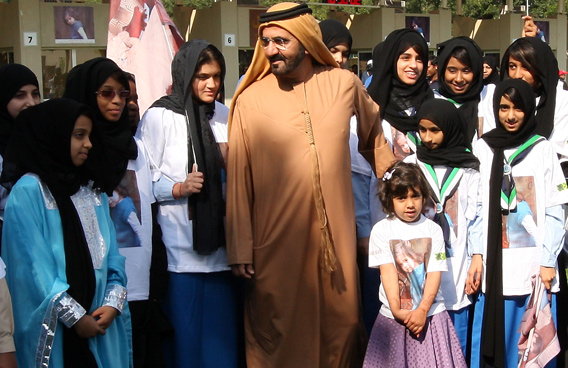 His Highness Sheikh Mohammed bin Rashid Al Maktoum, Vice-President and Prime Minister of the UAE and Ruler of Dubai, has awarded Sheikh Mohammed bin Rashid's Honorary Sash to Her Highness Sheikha Fatima Bint Mubarak, wife of the late HH Sheikh Zayed bin Sultan Al Nahyan and Supreme Chairperson of the Family Development Foundation, Chairperson of UAE Women's Federation and Chairperson of Arab Women Organization.

"I am pleased to award Sheikh Mohammed bin Rashid's Honorary Sash to HH Sheikha Fatima Bint Mubarak, Mother of Emirates #ThankUmother," Sheikh Mohammed tweeted through his Twitter handle @HHShkMohd this afternoon.

"Sheikha Fatima Bint Mubarak had always stood by Sheikh Zayed, extended support for Emirati women, and brought up great leaders #ThankUmother," HH added.

"Honoring Sheikha Fatima is not only my initiative; it comes from all Emiratis who have seen & lived her numerous achievements #ThankUmother," he tweeted.

Sheikh Mohammed also issued a directive to rename Dubai's Al Wasl Hospital to Latifa Hospital, in the loving memory of his late mother, Sheikha Latifa bint Hamdan, wife of the late Sheikh Rashid bin Saeed Al Maktoum.

"I issued a directive today to rename Al Wasl Hospital in Dubai to "Latifa Hospital" honoring the memory of my late mother #ThankUmother," he tweeted.

Sheikh Mohammed has directed that celebrations of his 6th Accession Day should focus on mothers.

"I don't want special celebrations to honour me - rather we want to celebrate in our own way and in line with our traditions and customs .... we want to honour - every year - a category that merits recognition and care .... last year we honoured orphans and today we want to honour mothers, the secret of our existence in this life," Sheikh Mohammed said through his account on Twitter @HHShkMohd.
Follow Emirates 24|7 on Google News.