Sheikh Mohammed inaugurates Museum of the Future festivity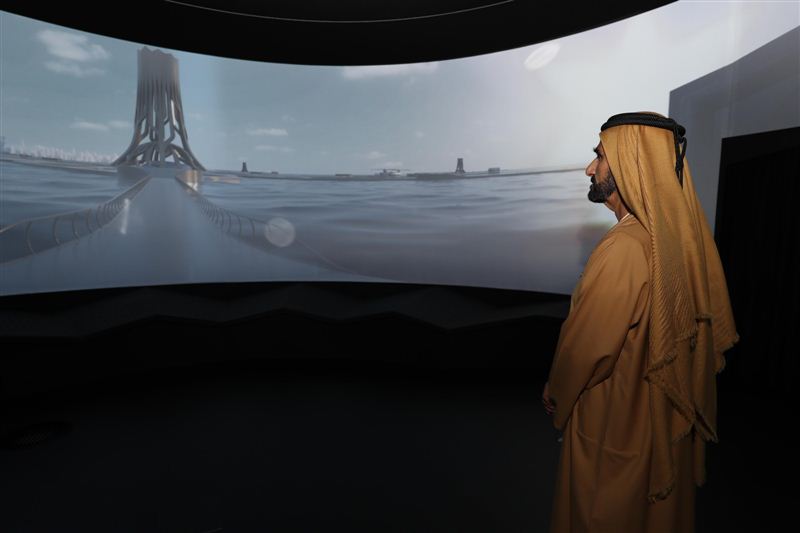 Vice President and Prime Minister and Ruler of Dubai, His Highness Sheikh Mohammed bin Rashid Al Maktoum, on Friday inaugurated the Museum of the Future.
The opening came ahead of the fifth annual World Government Summit, to be held in Dubai's Madinat Jumeirah from 12th to 14th February.
The museum will draw attention to three main challenges - water supply, food security and self-sufficient cities.


Set up by Dubai Future Foundation, the museum proposes three new solutions, unveiling how countries can adapt to climate change and lead the future. It also underlines the importance of adapting to future implications of climate change.
"The UAE's strategy for building inspires people to innovate and come up with solutions for the future," His Highness Sheikh Mohammed bin Rashid said.

"Leaders, decision makers and experts around the world are investing time, effort and resources to find sustainable solutions for climate change challenges. These endeavours help us provide food and water, and build sustainable cities. Climate change and food security require us all to work together and propose solutions that effect positive change and benefit all economic and social sectors," he added.
"The UAE has always put the vision towards facing challenges that affect the society. The Museum of the Future offers visitors the opportunity to explore ideas and best practices that serve to build a future that resonates with our leaders' directives and vision, and that cements the UAE's position as a global hub for forecasting and planning for the future," he noted.

"To that end, we take the opportunity today, through the influential global platform, the World Government Summit, to share our vision for the future, and our proposed solutions to face climate change, while exploring any and all possible opportunities that may lie therein. The UAE has led the charge in proactively planning for the future, anticipating the challenges that may arise, and proposing solutions for them," His Highness Sheikh Mohammed said.

He noted that the Museum of the Future will be a permanent fixture in Dubai, exhibiting the inventions and technologies of the future. It is an ideal platform that embodies bold ideas and develop pragmatic solutions, as well an incubator for innovation.

"The Museum of the Future is a global platform where top-tier experts can identify the most prominent scientific and technological trends of the future. It is a catalyst for future forecasting and study efforts, and plays a pivotal role in setting up policies and strategies that allow the world's governments to benefit from the technologies of the future and their potential," he added.
While the museum highlight three key challenge areas in the upcoming summit – water, food and self-sufficient cities - studies reveal that the UAE procures 80 percent of its drinking water through desalination, with demand for drinking water constantly increasing. Meanwhile, the global supply of potable water is projected to fall 40 percent short of global demand by 2030.

Studies also show that the UAE imports 85 percent of its food, costing the country 15 percent of its GDP.
The Ministry of Economy predicts the cost of importing food to quadruple to 60 percent of GDP by 2025, unless local, sustainable food sources are provided.

The world will need to produce 70 percent more calories than today to provide food for the population, according to studies by the Food and Agriculture Organisation, FAO.
In light of these findings, the Museum of the Future offers new concepts for farms that use cutting-edge technologies to produce food at home.
The AutoFarms will be connected to FoodNet, an artificially intelligent social network for food that serves entire neighbourhoods.
AutoFarms will create personalised predictive menus and then harvest the ingredients, prepare them and deliver them right to people's doorstep.
They will be integrated into the local food network, allowing them to synchronise data with the wider market, directly address health needs and solve city-wide nutrition problems.
This will help produce food that is 100 times healthier and more nutritious, using 99 percent less water and electricity.

The museum has also conceptualised living organic freshwater factories made of genetically engineered jellyfish.
It takes visitors on an underwater tour to introduce them to this innovative solution to deal with the shortcomings of desalination.
Jellyfish is one of nature's most absorptive living organisms. Meanwhile, mangrove roots are one of nature's best biological desalinators.
With that in mind, a giant 350m-wide jellyfish can be created by crossing the genes of jellyfish and mangrove trees to produce living freshwater factories that could serve an entire city.
Again, rising sea levels are projected to displace more than 375 million people while global temperatures are set to rise by an average of 2C.
The museum has presented its City Kit - a "self-building" solution that uses biotechnology and robotics to construct 100 percent self-sufficient cities in a matter of weeks.
The invention can also produce electricity, grow crops, drain flooded streets, repair crumbling buildings and build sustainable infrastructure.
Follow Emirates 24|7 on Google News.