Sheikh Mohammed oversees signing of collaboration agreement to train UAE job-seekers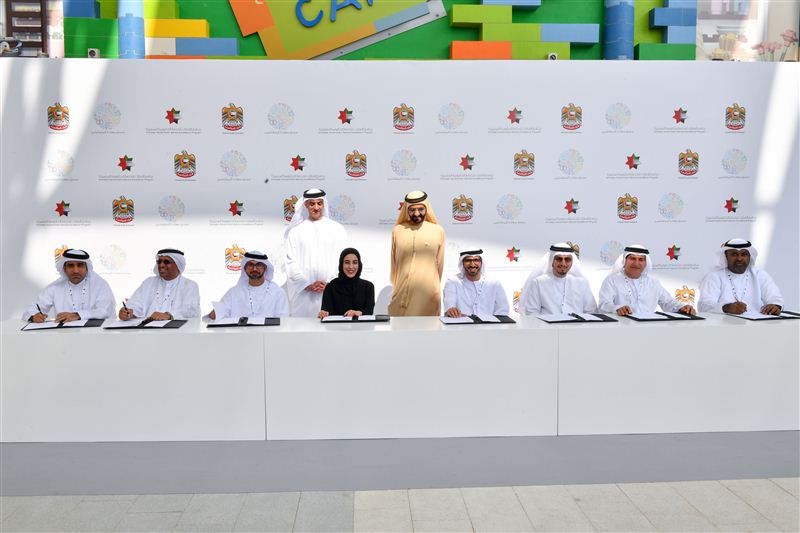 Vice President and Prime Minister of the United Arab Emirates and Ruler of Dubai His Highness Sheikh Mohammed bin Rashid Al Maktoum attended on Wednesday the signing ceremony of the collaboration agreement that aims to train and empower UAE jobseekers to work in private sector.
The collaboration agreement is part of "my experience package" , part of "Customers Happiness Factory" and was signed by Ministry of Human Resources and Emiratisation, Ministry of Education, UAE Youth Council, Zayed University, Higher Colleges of Technology, National Qualifications Authority, General Authority of Youth and Sports Welfare, and Telecommunications Regulatory Authority.
The signing of this agreement arose from the need for better training for students to take on employment in the private sector. It aims to bring out their best capabilities and skills by providing support from governmental departments, from the start of their education and all the way through their eventual employment.
This joint programme between different government agencies will work to identify the interests of students and develop their talents and skills by giving them experience through training, part-time work and voluntary work, with the aim to increasing their future chances of finding employment.
The project will create additional benefits for schools, university students, graduates, volunteer workers and business leaders by providing a platform to simplify the search for training, volunteer work and part-time work that matches the demands of the job market with the professional skills on offer.
Representatives from the participating parties signed the initiative as part of the Customers' Happiness Factory, an agreement of co-operation to improve government customer service. It will focus on improving customer satisfaction and provide incentives for employees to give exceptional service.
The agreement will reinforce the message to continue co-operation between various government departments to improve customer satisfaction. It was signed by representatives from all parties involved in the Customers' Happiness Factory, including senior officials, government employees and customers.
Follow Emirates 24|7 on Google News.