Sheikh Mohammed receives leaders of media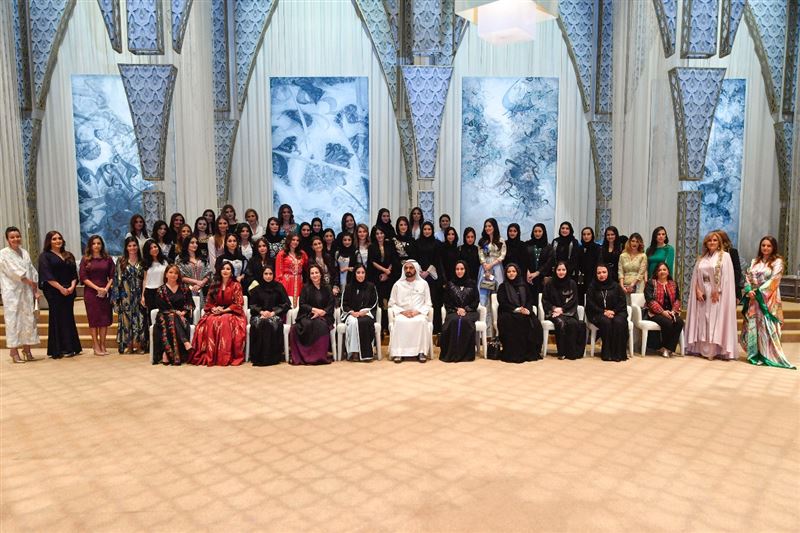 His Highness Sheikh Mohammed bin Rashid Al Maktoum, the Vice President, Prime Minister and Ruler of Dubai, today said that realising the UAE's objective of achieving the highest ranking in every sphere requires players across sectors to work together to develop and implement a happiness - centred development model.
His Highness's remark came as he received a number of leaders of local and international media based in the UAE at a Ramadan reception hosted by the Government of Dubai Media Office, GDMO, in Madinat Jumeirah.
H.H. Sheikh Mohammed added that media outlets have a responsibility to encourage members of society to strive towards greater excellence and creativity. "Taking the initiative to implement futuristic ideas is a strategic choice. The media is a key partner in achieving this by informing and educating their audiences on what the future hold in terms of opportunities and challenges and inspiring them to develop innovative solutions that can turn challenges into opportunities," Sheikh Mohammed said.
The event was attended by H.H. Sheikh Hamdan bin Mohammed bin Rashid Al Maktoum, Crown Prince of Dubai and Chairman of Dubai Executive Council, H.H. Sheikh Maktoum bin Mohammed bin Rashid Al Maktoum, Deputy Ruler of Dubai, H.H. Sheikh Mansour bin Mohammed bin Rashid Al Maktoum and Dr. Sultan bin Ahmad Sultan Al Jaber, Minister of State and National Media Council Chairman.
Sheikh Mohammed discussed with the media personalities various topics related to the UAE's drive to establish global leadership in shaping the future, regional and global challenges and the work being done to place the happiness of the people at the centre of development process.
"We have to deal with challenges wisely, with full awareness of all aspects of the situation. Our vision focuses on the future, and our initiatives and projects are designed not only to help us accelerate the future but also allow us to establish global leadership in this area. The UAE is a role model in the optimal use of resources to serve people and ensure their happiness, as well as enhance opportunities for growth and progress not only for our people but also for all those who share our optimism for a better future," he said.
"The world around us is changing rapidly. The UAE, since its inception, has successfully kept pace with key changes over the last four decades. We are well prepared for the future. Our forefathers have benefited from change and the opportunities it has brought, and they have also faced challenges successfully. Today, our objective is to enhance our contribution to developing solutions for the challenges that humanity faces and make the UAE a beacon for hope. The media is an important partner in our journey towards the future," he added.
Sheikh Mohammed also called on the media to continue to expose campaigns to distort facts and mislead people. He praised the patriotism displayed by the UAE media in this critical period of the region's history, in which the country is combating the forces of terrorism and extremism.
"The media today has no choice but to be a mirror of truth. Audiences today are sophisticated and can easily differentiate between media who are truthful and those who are not. We are confident that our young people will not be affected by misinformation campaigns because the morals and values of the late Sheikh Zayed are deeply instilled in them," he said.
Speaking about the role of youth, His Highness said that empowering youth and developing them to take on leading positions and participate in decision making is key to ensuring a bright future for the country. "We have assigned them with a mission to come up with ideas and projects that will enable us to transition to the future rapidly. We are confident of the ability of our country's youth to achieve these goals," he added.
Media leaders attending the event thanked Sheikh Mohammed for his keenness to listen to their concerns and suggestions.
Follow Emirates 24|7 on Google News.