Sheikh Mohammed releases 170 Houbara bustards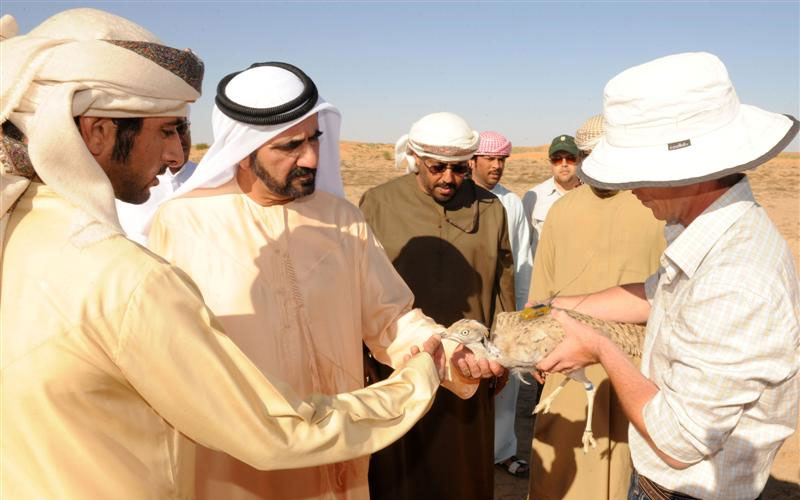 His Highness Sheikh Mohammed bin Rashid Al Maktoum, Vice-President and Prime Minister of the UAE and Ruler of Dubai, on Friday released 170 captive-bred Asian Houbara bustards produced at the National Avian Research Centre (NARC) of the International Fund for Houbara Conservation at the Al-Maha desert sanctuary in Dubai.
Twenty of the released birds were tagged so they can be tracked by satellites.
The release of the birds is part of the support by Sheikh Mohammed to the strategy of the President His Highness Sheikh Khalifa bin Zayed Al Nahyan to increase the bird's population and relocate them in the UAE and the Arabian Peninsula and to protect the environment.
Director-General of International Fund for Houbara Conservation Mohammed Saleh Al-Baidhani, as he briefed on the reasons why Al-Maha Sanctuary was chosen for the release, said the area provides food, suitable weather conditions and habitat for the birds.
He also explained breeding techniques, tracking of the tagged birds and the use of data for future releases.
Present at the release ceremony were Sheikh Hamdan bin Mohammed bin Rashid Al Maktoum, Crown Prince of Dubai, Lt General Musabbah Rashid Al Fattan, Director of the Office of Sheikh Mohammed and officials from the International Fund for Houbara Conservation.
About 882 Asian houbara bustards were released in 2010 in Abu Dhabi and Dubai as part of a programme to relocate the birds in the UAE which is a natural habitat for large numbers of this species.
Follow Emirates 24|7 on Google News.