Sheikh Mohammed reviews progress of Dubai Creek Tower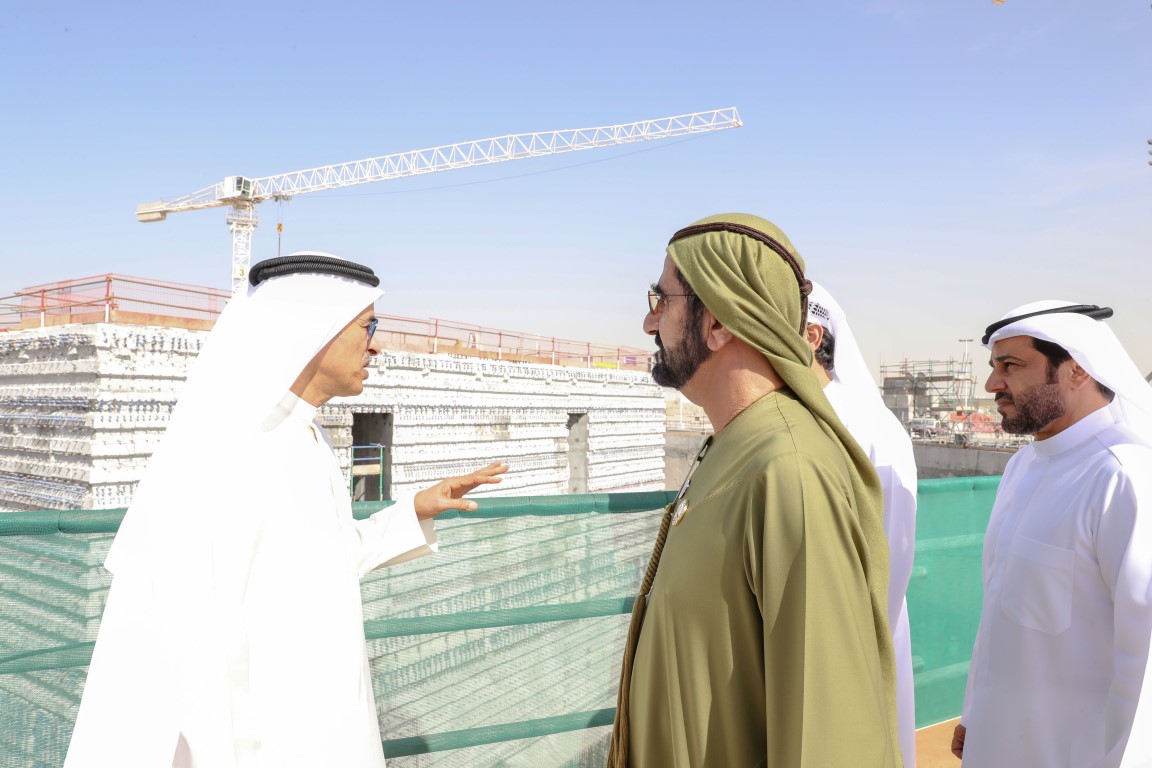 The Vice President, Prime Minister and Ruler of Dubai, His Highness Sheikh Mohammed bin Rashid Al Maktoum has reviewed the progress of Dubai Creek Tower, the global icon in the heart of the 6 sq km Dubai Creek Harbour.
His Highness was accompanied by H.H. Sheikh Maktoum bin Mohammed bin Rashid Al Maktoum, Deputy Ruler of Dubai; and Chairman of Mohammed bin Rashid Al Maktoum Knowledge Foundation His Highness Sheikh Ahmed bin Mohammed bin Rashid Al Maktoum.
Chairman of Emaar Properties Mohamed Alabbar; Chairman of Dubai Holding Abdullah Al Habbai and high-ranking government officials and the senior managers of company were also present during the visit.
The visit of His Highness Sheikh Mohammed coincides with Emaar setting a new milestone in the construction of Dubai Creek Tower. With the placement of concrete for the pile cap commencing in September last year, the core of the pile cap has now reached its highest point. Over 50 per cent of the pile cap has now been finished with completion scheduled for mid-2018.
Dubai Creek Tower's pile cap is an approximately 20 metre thick multi-layered, tiered reinforced concrete top that covers and transfers the load to the foundation barrettes. To date, about 25,000 cubic meters of concrete has been poured, weighing about 60,000 tonnes or half the weight of the CN Tower in Canada. About 12,000 tonnes of steel reinforcement has also been placed, nearly twice the weight of the Eiffel Tower.
In October 2016, His Highness Sheikh Mohammed marked the ground-breaking of the tower, with the foundation work accomplished in a record time. The tower's 145 barrette piles were tested to a world record load of 36,000 tonnes and laid 72 metres deep to firmly secure the super-structure. In all, about 50,000 cubic metres of concrete will be used to fully cap the foundation piles.
Over 450 skilled professionals from across the world are working on site highlighting the global collaboration that marks the construction of the new iconic structure. Designed by Spanish/Swiss architect and engineer Santiago Calatrava Valls, Dubai Creek Tower will feature several observation decks such as the Pinnacle Room and VIP Observation Garden Decks.
Dubai Creek Tower will add incredible economic value to Dubai Creek Harbour, a mixed-use development located near the Ras Al Khor Wildlife Sanctuary that is home to over 67 species of water birds and is protected by the UNESCO Ramsar Convention.
Follow Emirates 24|7 on Google News.