Sheikh Mohammed reviews progress of Government Accelerators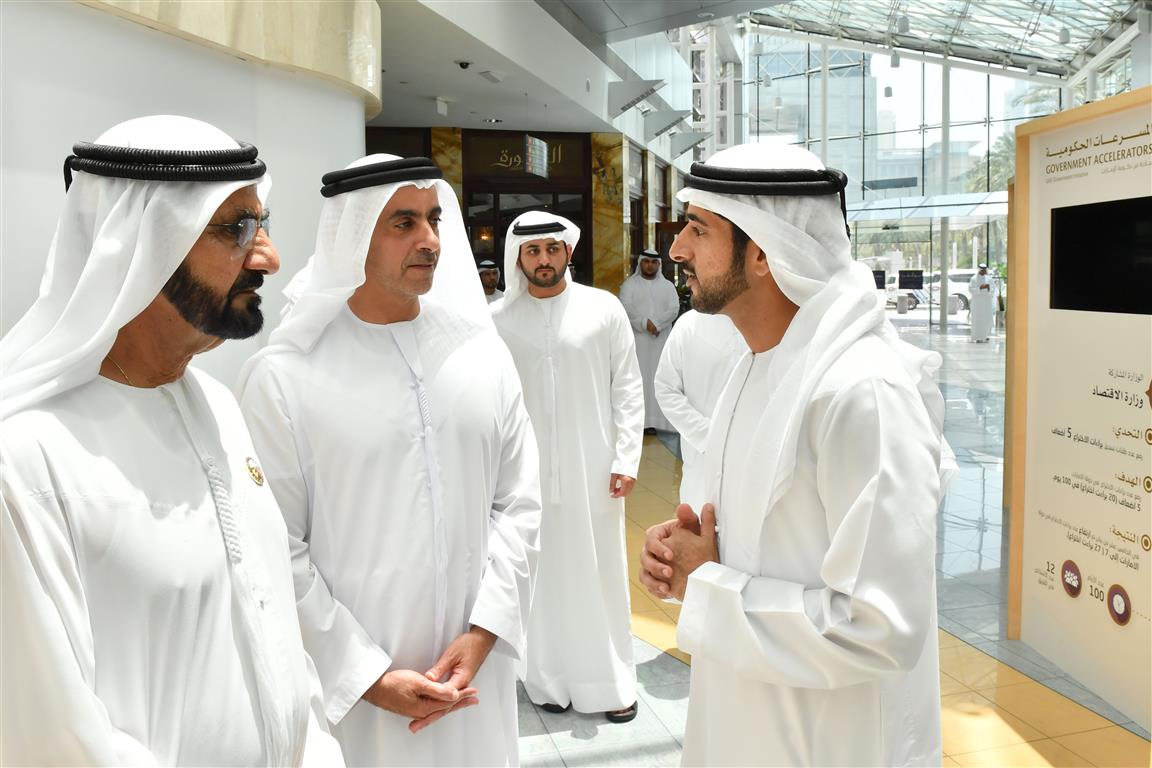 Vice President and Prime Minister of the UAE and Ruler of Dubai His Highness Sheikh Mohammed bin Rashid Al Maktoum underlined the importance of raising government efficiency in delivering services to the public.
His Highness's remarks came during a visit to the Government Accelerators headquarters today.
A solutions-based collaboration between government, private sector and academic teams, the Government Accelerators aim to drive progressive change throughout government entities in the UAE and increase the level of public satisfaction.
"Further to the directives of my brother, UAE President His Highness Sheikh Khalifa bin Zayed Al Nahyan, the government of the UAE has set the bar high in utilising innovative technologies to boost development," Sheikh Mohammed said. "Government Accelerators are tools to achieve our goal of raising government efficiency and delivering services to the public more speedily. Our aim is to integrate this system into all aspects of government services," he added.
The teams tasked with accomplishing the goals set for the first group of Accelerators briefed Sheikh Mohammed on their accomplishments and results since the launch of Government Accelerators in October 2016. Goals for the second group of Accelerators were also reviewed.
Accompanying Sheikh Mohammed on the visit were Sheikh Hamdan bin Mohammed bin Rashid Al Maktoum, Crown Prince of Dubai; Sheikh Maktoum bin Mohammed bin Rashid Al Maktoum, Deputy Ruler of Dubai; Lt. General Sheikh Saif bin Zayed Al Nahyan, Deputy Prime Minister and Minister of the Interior; Mohammad bin Abdullah Al Gergawi, Minister of Cabinet Affairs and The Future;Saqr Ghobash, Minister of Human Resources and Emiratisation; Suhail bin Mohammed Faraj Al Mazrouei, Minister of Energy; Dr. Abdullah bin Mohammed Belhaif Al Nuaimi, Minister of Infrastructure Development;Najla bint Mohammed Al Awar, Minister of Community Development; Ohood bint Khalfan Al Roumi, Minister of State for Happiness; and and a number of officials.
Speaking to teams at the Government Accelerators headquarters, Sheikh Mohammed highlighted the significance of developing an innovative, results-driven government services system. "The aim is to provide comprehensive high-quality services to the public. This would raise the level of happiness and satisfaction," Sheikh Mohammed said.
The second group of Government Accelerators includes teams from seven ministries and federal entities working together to expedite the completion of projects that fall under the UAE Vision 2021. The group will tackle eight challenges within a period of 100 days. Some of these challenges include reducing the time needed to issue residence permits in Ajman by 50 percent; speedy issuance of retirement payroll for Emiratis within 14 days of retirement; improving services for Sheikh Zayed Housing Program clients in Fujairah and Sharjah; rolling out smart services in seven government entities that do not require clients to present official credentials; and decreasing the time needed to connect water and electricity to new villas in Ajman from 47 days to 14.
The first group of Government Accelerators presented their accomplishments to Sheikh Mohammed. They included reducing mortality rates on dangerous roads by 21 percent; increasing the quality of air by 10 percent; providing 1,000 job opportunities for Emiratis in the financial sector within 75 days; and easing the process for patent registration and processing, apart from other significant accomplishments.
Follow Emirates 24|7 on Google News.