Sheikh Mohammed reviews progress of UAE Agenda 2021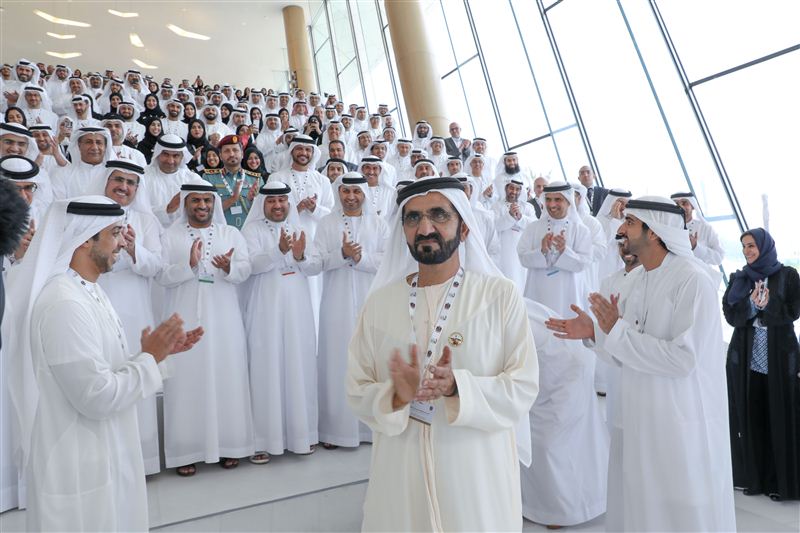 Vice President, Prime Minister and Ruler of Dubai, His Highness Sheikh Mohammed bin Rashid Al Maktoum said that efficiency and success of governments are measured by accomplishments and the ability to achieve goals on time.
Sheikh Mohammed also said that the UAE under the leadership of the President Sheikh Khalifa bin Zayed Al Nahyan managed to come up with a distinctive government work system based on honoring its commitments, and turning challenges into opportunities to achieve the national agenda to be one of the best countries in the world by 2021, which coincides with the 50 anniversary of the UAE.
His Highness remarks came as he attended, today at the Union Museum in Dubai, an event organized by the government to develop work process of the 36 executive teams he directed to create in October 2016 to achieve the national agenda's objectives, which includes 52 indicators over the next 4 years. The teams reports directly to His Highness, and are expected to achieve the full targets that cover 6 categories including healthcare, education, economy, environment and infrastructure, society, security and justice.
His Highness also attended the signing ceremony the National Agenda Charters by ministers, where ministers committed to work hard to achieve the UAE vision 2021. "When we issue directives to set the executive teams of the national agenda representing various government entities, we were clear that we need to consolidate efforts to achieve all the objectives of the national agenda by 2021," Sheikh Mohammed said. "Today we reviewed plans and projects that were designed to face short term challenges, and we need to increase the efforts and be ready to face any updates in the next period," he added.
Sheikh Mohammed met the 36 executive teams involves 500 members, and was briefed about the progress and the results of their projects that aims to achieve the national agenda. During the event, 96 new initiatives were unveiled, with the aim of achieving the national agenda and mainly focus on integrating the efforts of the local and federal entities.
Sheikh Mohammed was accompanied by Crown Prince of Dubai Hamdan bin Mohammed bin Rashid Al Maktoum, Deputy Prime Minister and Minister of Presidential Affairs Sheikh Mansour bin Zayed Al Nahyan, Sheikh Mansour bin Mohammed bin Rashid Al Maktoum, Minister of Cabinet Affairs and Future Mohammed Abdullah Al Gergawi, and Director- General of the Department of Protocol and Hospitality in Dubai Khalifa Saeed Suleiman.
Follow Emirates 24|7 on Google News.