Sheikh Mohammed tours exhibition on the sidelines of UN World Data Forum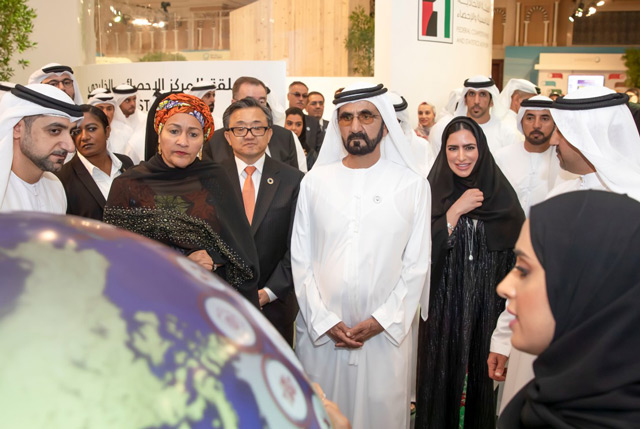 His Highness Sheikh Mohammed bin Rashid Al Maktoum, the Vice President, Prime Minister and Ruler of Dubai, said that building the future is not merely an improvisational decision but a strategic plan based on knowledge and clear goals.
His Highness also said that decisions related to the future of human being and humanity should be based on a comprehensive understanding of what is really needed in order to be able to set the future directions to build opportunities that support the development of human communities.
"The challenges facing the world are many, and opportunities for achieving a comprehensive sustainable development are huge, mainly amid the big data revolution produced by the fourth industrial revolution. We have to work as one team to come up with a unified vision that enables us to face various challenges, and to launch international initiatives to make positive changing and improve people's lives," Sheikh Mohammed said.
He added, "Development in our country is a heritage based on the vision of our founding fathers, which was followed by Emiratis. It is a future path that we aim to follow in order to continue our development journey. The UAE is among the pioneer in the world in launching humanitarian initiatives to help achieve objectives of sustainable development."
His Highness's remarks came as he toured the exhibition held on the sidelines of the 2nd edition of the UN World Data Forum, which is taking place from 22nd to 24th October in Dubai, and is attended by more than 2500 experts from 120 countries.
Sheikh Mohammed, accompanied by H.H. Sheikh Hamdan bin Mohammed bin Rashid Al Maktoum, Crown Prince of Dubai, was given a whistle-stop tour of the UAE pavilion which hosts 22 government and private entities displaying their achievements in term of data usage.
His Highness urged companies further improve data collection process, and to deploy data while setting plans for building the future, hence achieve the UAE vision 2021, and the UAE Centennial Strategy to become the best country in the world.
Sheikh Mohammed was also accompanied by H.H. Sheikh Ahmed bin Mohammed bin Rashid Al Maktoum, Chairman of Mohammed bin Rashid Al Maktoum Knowledge Foundation; H.H. Sheikh Mansour bin Mohammed bin Rashid Al Maktoum; Mohammad bin Abdullah Al Gergawi, Minister of Cabinet Affairs and The Future; Reem bint Ibrahim Al Hashemy, Minister of State for International Cooperation; Ohoud bint Khalfan Al Roumi, Minister of State for Happiness and Wellbeing; Khalifa Saeed Suleiman, Director- General of the Department of Protocol and Hospitality in Dubai, and Amina Mohammed, Deputy Secretary-General of the United Nations.
Follow Emirates 24|7 on Google News.