Sheikh Mohammed visits GESS Exhibition at Dubai World Trade Centre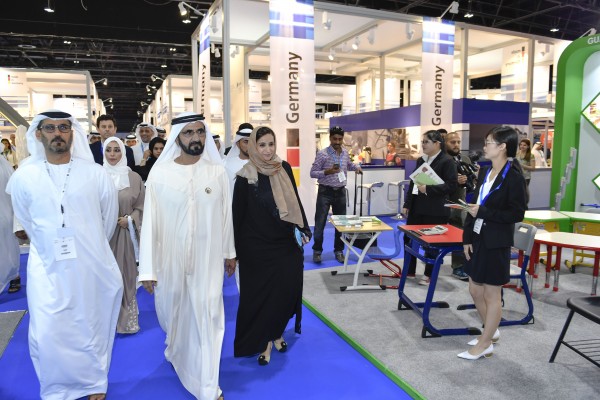 Vice President and Prime Minister and Ruler of Dubai, His Highness Sheikh Mohammed bin Rashid Al Maktoum, visited the Global Education Supplies and Solutions Exhibition (GESS), organised by the Ministry of Education, at the Dubai World Trade Centre on Thursday morning.
His Highness Sheikh Mohammed bin Rashid visited more than 500 public and private sector pavilions of 30 countries including the UAE. He was accompanied by H.H. Sheikh Ahmed bin Saeed Al Maktoum, Dubai Civil Aviation Authority President and Chief Executive of the Emirates Airline Group; Mohammad bin Abdullah Al Gergawi, Minister of Cabinet Affairs and The Future; Hussain bin Ibrahim Al Hammadi, Minister of Education; Jameela bint Salem Al Muhairi, Minister of State for Public Education; and Khalifa Saeed Sulaiman, Director-General of Dubai's Protocol Department.
Sheikh Mohammed bin Rashid Al Maktoum was briefed on the latest educational supplies, solutions and technologies, when toured the pavilions of Saudi Arabic, Bahrain, the Ministry of Education and the Abu Dhabi Education Council.
During his tour, Sheikh Mohammed bin Rashid viewed an advanced device that features live lessons in sciences and computing and was briefed, with the delegation, about its operational mechanism.
While appreciating the concept of the exhibition, Sheikh Mohammed bin Rashid sees the forum as an opportunity for educationists and students in the UAE and the region to learn about the main global innovations that contribute to raising the capacities of teachers and students. Students could benefit from the advanced technologies which enable them to compete with their peers in developed countries, he added.
During his talk with ministers from the UAE and GCC countries, Sheikh Mohammed bin Rashid stressed the importance of education and the desire of the UAE to provide university and school students with various educational methods that comply with international standards, to empower and enable them to positively contribute to achieving sustainable development and the nation's goals.
He added that the Ministry of Education and other relevant authorities in the UAE should be up to date with global scientific and technological developments, and make these available to students in UAE schools and universities, to enhance the level of national education, and harness potential of the youth to shape a promising future for the UAE.
Follow Emirates 24|7 on Google News.