Sheikh Mohammed visits Global Village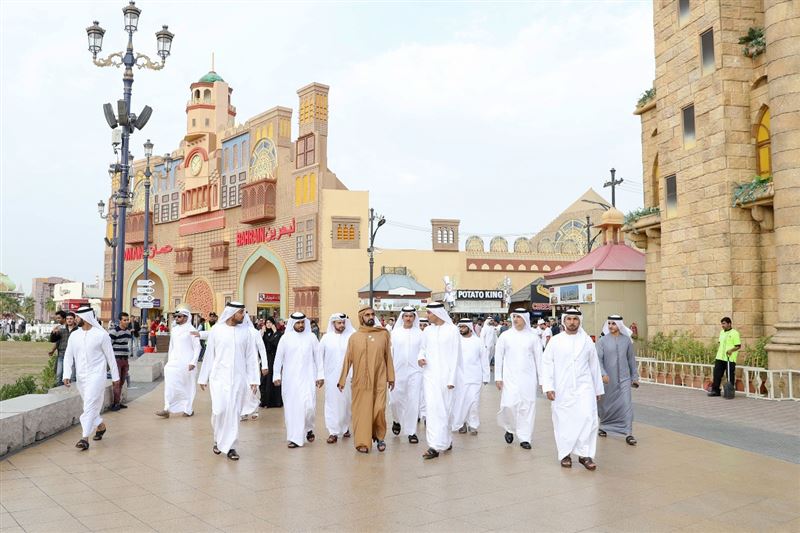 The Vice President, Prime Minister and Ruler of Dubai, His Highness Sheikh Mohammed bin Rashid Al Maktoum, today visited the Global Village in Dubai while praising its role in symbolising the convergence of international cultures in the UAE.
His Highness Sheikh Mohammed bin Rashid toured several pavilions belonging to the village's 75 participating countries, including Kuwaiti, Yemeni, Saudi Arabia, India, Thailand and various African nations.
Since its establishment two decades ago, the village has experienced ongoing development in terms of infrastructure, entertainment and the number of participating countries and their pavilions.
As the largest seasonal cultural extravaganza in the region, the Dubai Global Village offers visitors an array of festivals and shopping and entertainment options in an open-air environment, between November 1st and 7th April, on an area of over 300,000-square metres.
Sheikh Mohammed started his visit by touring the Kuwaiti pavilion, which displays the national folklore and identity of Kuwait. He also visited the Yemeni pavilion and learned about Yemen's folklore, clothing and other national products.
H.H. also toured several kiosks displaying products made by Emirati youths and financed by the Mohammed bin Rashid Establishment for SME Development. He then visited the Hamdan bin Mohammed Heritage Centre, which draws hundreds of visitors daily who are interested in learning about the UAE's rich history.
During his two-kilometre tour, Sheikh Mohammed expressed his satisfaction at seeing the village continue to symbolise the convergence of international cultures in the UAE while stressing that the country will remain the world's gateway, which will never shut down for visitors, tourists, investors, residents, brothers or friends.
Follow Emirates 24|7 on Google News.