Sheikh Mohammed visits headquarters of MiSK Foundation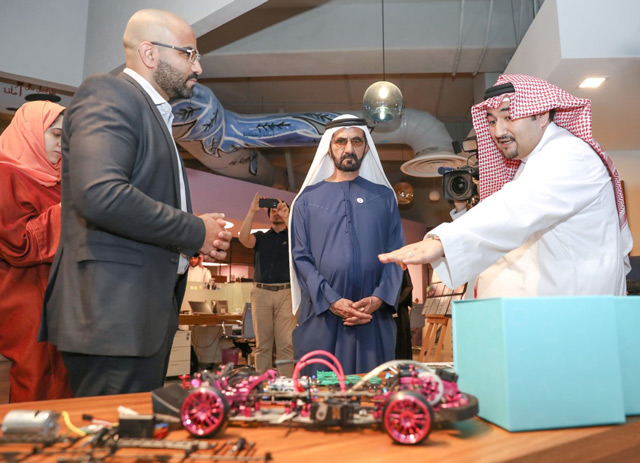 His Highness Sheikh Mohammed bin Rashid Al Maktoum, the Vice President, Prime Minister and Ruler of Dubai, visited the headquarters of the MiSK Foundation in Riyadh. Chair of the Board of the MiSK Initiatives Centre, Bader Alasaker, welcomed His Highness on his arrival.
During his visit, Sheikh Mohammed was briefed on MiSK's objectives and plans. The non-profit foundation is devoted to cultivating learning and leadership among youth and fostering talent, creativity and innovation in a healthy environment.
His Highness expressed his appreciation for MiSK's mission and praised the efforts of MiSK's leadership and administration, in particular the Founder and Chairman of MiSK's Board, Prince Mohammed bin Salman bin Abdulaziz.
Sheikh Mohammed bin Rashid also expressed his appreciation for MiSK's projects, both within and outside Saudi Arabia, and its achievements since its inception in 2011.
Focused primarily on Saudi youth, MiSK has also established partnerships with international organisations to support youth worldwide. Recently, the foundation signed a strategic agreement with the United Nations to boost support for the UN's youth-related work around the world, with the aim of directly reaching and mobilising 50 million youth globally to support the achievement of the UN's Sustainable Development Goals by 2030.
H.H. Sheikh Ahmed bin Saeed Al Maktoum, Chairman of Dubai Civil Aviation Authority and Chief Executive of Emirates Group; Mohammad bin Abdullah Al Gergawi, Minister of Cabinet Affairs and the Future; Mohammed Ibrahim Al Shebani, Director-General of the Dubai Ruler's Court; Khalifa Saeed Suleiman, Director-General of Dubai Protocol Department; Mohamed Al Abbar, Chairman of Emaar Properties, and Abdulla Ahmed Al Habbai, Chairman of Dubai Holding and Group Chairman of Meraas, accompanied Sheikh Mohammed on his visit.
Follow Emirates 24|7 on Google News.