Sheikh Mohammed visits Meraas' The Yard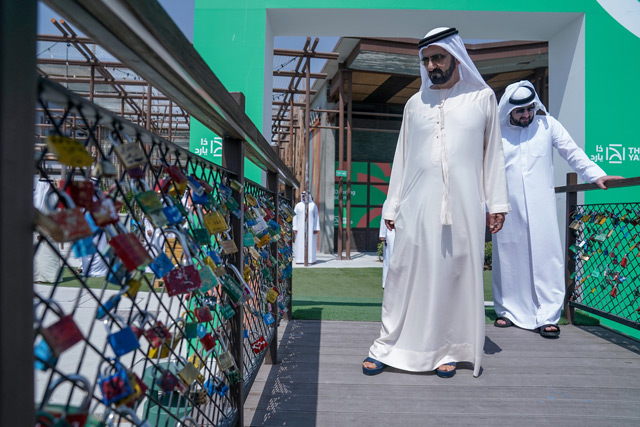 The Vice President, Prime Minister and Ruler of Dubai, His Highness Sheikh Mohammed bin Rashid Al Maktoum, today visited The Yard, Meraas' new multi-purpose destination, in Al Khawaneej, Dubai.
The project comes within Dubai's overall development plan by creating high-quality tourist and service destinations that are implemented in accordance with the highest standards, which ensure that the services provided to their clients are integrated and diversified to meet all their needs.
H.H. Sheikh Maktoum bin Mohammed bin Rashid Al Maktoum, Deputy Ruler of Dubai, H.H. Sheikh Ahmed bin Mohammed bin Rashid Al Maktoum, Chairman of Mohammed bin Rashid Al Maktoum Knowledge Foundation, accompanied Sheikh Mohammed.
Group Chairman of Meraas, Abdulla Al Habbai, briefed Sheikh Mohammed on the upcoming third phase of the project and the completed first and second phases. Al Habbai said that the project contributes to Dubai's objective of enhancing the happiness of people in the emirate and further raising its quality of life.
Sheikh Mohammed toured The Yard, which includes the 350,000-square-foot Last Exit D89, a rustic courtyard, a farmer's market, a bakery, air-conditioned and open-air restaurants, dining spaces, a unique mix of shops, a lake, shaded walking trails and landscaped picnic areas.
The third phase of The Yard's development, which will expand its total area to 2.8 million square feet, will include many public and entertainment facilities. Featuring a design inspired by its surroundings, the new project includes cinemas, sports facilities, a shopping centre, a hypermarket and tracks for walking and jogging.
Blending a rural farm environment with urban accents, The Yard has a distinctive visual identity with playful murals that provide an ideal destination for families. The Yard reflects Meraas' strong commitment to creating family-friendly destinations and connects communities. An 18-metre-tall windmill, a water mill, a well, decorative vintage pick-up trucks, farm animals and birdhouses further augment the appeal of the destination.
Follow Emirates 24|7 on Google News.