Spanish King receives Abdullah bin Zayed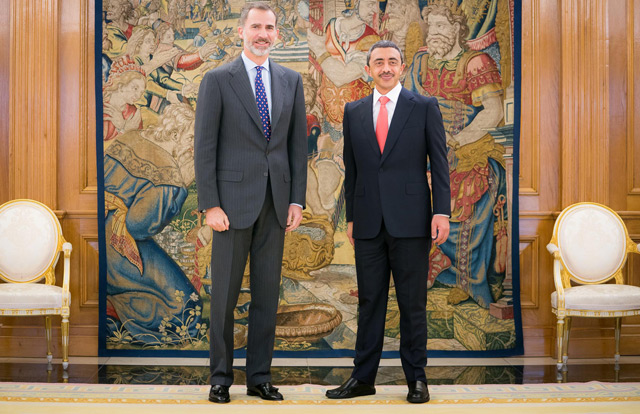 King Felipe VI of Spain received H.H. Sheikh Abdullah bin Zayed Al Nahyan, Minister of Foreign Affairs and International Cooperation, in Madrid on Monday (yesterday) and expressed the importance of enhancing cooperation between the two countries in various fields.
King Felipe and H.H. Sheikh Abdullah discussed ways to strengthen the historical bilateral relations between the UAE and Spain and ways of enhancing them to the benefit of the two friendly nations. They also exchanged views on a number of regional and international issues of common concern.
During the meeting, Sheikh Abdullah also reiterated the importance of enhancing cooperation with Spain. He conveyed to King Felipe the greetings of President His Highness Sheikh Khalifa bin Zayed Al Nahyan, the Vice President, Prime Minister and Ruler of Dubai, His Highness Sheikh Mohammed bin Rashid Al Maktoum, and His Highness Sheikh Mohamed bin Zayed Al Nahyan, Crown Prince of Abu Dhabi and Deputy Supreme Commander of the UAE Armed Forces, referring to their desire to take mutual relations to a new level based on common interests as well as their hope that Spain would enjoy further progress and prosperity.
Welcoming Sheikh Abdullah, the King in return extended his greetings to the Emirati leaders, saying that his country also sought to strengthen its relations with the UAE in various fields.
He also praised the UAE's achievements, as reflected in its comprehensive development in all sectors, thanks to the vision of its wise leadership, and his wishes for the UAE's further growth and prosperity.
The meeting was attended by Dr. Hessa Abdullah Al Otaiba, UAE Ambassador to Spain.
Follow Emirates 24|7 on Google News.