Speakers for Global Women's Forum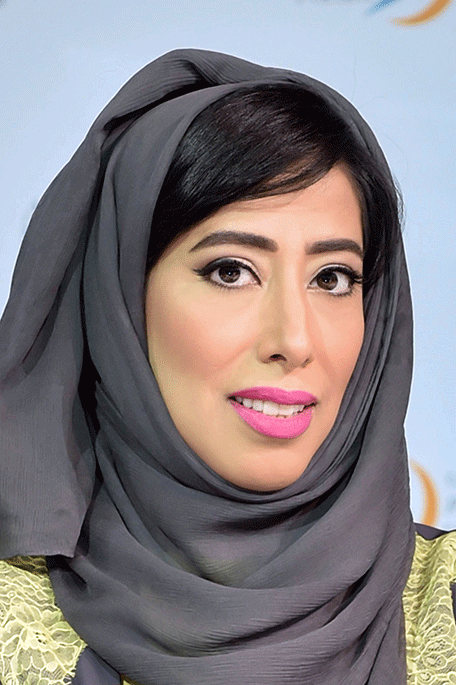 Dubai Women Establishment (DWE) has announced the keynote speakers of Global Women's Forum Dubai, which will be held under the patronage of His Highness Sheikh Mohammed bin Rashid Al Maktoum, Vice President and Prime Minister of the United Arab Emirates and Ruler of Dubai, on February 23-24, 2016, at the Madinat Jumeirah in Dubai.
The opening session of Global Women's Forum Dubai will see keynote speeches by Queen Rania Al Abdullah of the Hashemite Kingdom of Jordan and Sheikh Abdullah bin Zayed Al Nahyan, UAE Minister of Foreign Affairs.
The Forum will also feature high-profile Arab and international speakers including Christine Lagarde, Managing Director of the International Monetary Fund; Dr. Ameenah Gurib-Fakim, President of the Republic of Mauritius; Sheikha Lubna bint Khalid Al Qasimi, UAE Minister of International Cooperation and Development; and Reem Ibrahim Al Hashimi, UAE Minister of State; as well as influential figures from the public and private sector around the world.
During the event, Sheikha Manal bint Mohammed bin Rashid Al Maktoum, President of the UAE Gender Balance Council and President of Dubai Women Establishment, will welcome participants and guests from all over the world. She said the strong participation at Global Women's Forum Dubai reflects the UAE's leading position on a global level, as well as its efforts to enhance the role of women and maximise their contribution to society.
Sheikha Manal added that Global Women's Forum Dubai will highlight the achievements of Emirati and Arab women across various fields and help to rectify inaccurate stereotypes about women in the region. According to Sheikha Manal, the fact that the UAE won the bid to host a global event of this calibre is an international recognition of the country's strategic values and vision to advance women's meaningful participation and integration in socio-economic development.
Mona Ghanem Al Marri, Chairperson of the Board of Dubai Women Establishment (DWE) and Vice President of the UAE Gender Balance Council, said: "Hosting this event in Dubai recognises our leadership's vision and continuous efforts to strengthen the role of women and their capabilities to contribute positively and effectively to the National Agenda. It also reflects the importance our leadership has placed on giving women the opportunities they need to develop their careers whilst caring for their families, to build a society capable of achievement and progress."
She continued: "Global Women's Forum Dubai will provide a unique platform for a global dialogue between female decision-makers, and leaders of organisations concerned with women affairs. Participants will have the opportunity to exchange experiences in regards to gender balance and the development of women's skills and capabilities. We will also highlight the leading example that our country has set in advancing women and encouraging them to further contribute to the sustainable development of the UAE."
Mona Al Marri also stressed the value that this unique gathering of prominent local, regional and international leaders will add to Global Women's Forum Dubai. Welcoming keynote speakers with diverse backgrounds and exceptional achievements will enrich dialogues, and inspire creative as well as innovative ideas which will enhance the influence of women within our region, and globally.
Opening session
Queen Rania and Sheikh Abdullah bin Zayed Al Nahyan will open Global Women's Forum Dubai, with keynote speeches about the importance of holding Global Women's Forum Dubai in the Mena region for the first time, and its role in changing perceptions about Arab women.
Christine Lagarde, the sixth most powerful woman leader in the world, according to Forbes, will be featured in a conversation with Publicis Groupe Senior Vice-President Olivier Fleurot.
During the session, Christine Lagarde will discuss some of her experiences across various fields and provide insights into the importance of increasing women's participation in the workforce as a means of reducing poverty and inequality, and implementing policies to improve the education levels of girls and women. Christine Lagarde has been a strong supporter of the Women's Forum for the Economy & Society, and has taken part in historic Women's Forum meetings in France and Myanmar.
The 'Turning Point' plenary session at Global Women's Forum Dubai will see Dr. Ameenah Gurib Fakim joining Reem Al Hashimi, UAE Minister of State, and a number of other distinguished speakers to discuss breakthrough moments in their careers. Dr. Gurib-Fakim took part in the Women's Forum Global Meeting in Deauville, France, in October 2015.
Advancing women's participation is a subject close to her heart. As a female Head of State and a leading biologist, she has spoken about the importance of driving female education and encouraging young women and girls to enter the fields of science, engineering and mathematics to drive quality and excellence for societies, the economy and political systems.
'Creating lasting social impact'
During the second day of Global Women's Forum Dubai, Sheikha Lubna Al Qasimi will deliver a keynote speech about "Creating Lasting Social Impact". Her talk will explore the importance of philanthropic and social projects in yielding new approaches to social impact, and serving up new models for making change.
Global Women's Forum Dubai, co-organised by the Women's Forum for the Economy & Society and Dubai Women Establishment, brings together leaders from around the world – women and men – representing business, government, academia as well as art and culture. The event will highlight new perspectives for today and tomorrow, creating a powerful, global network capable of boosting the influence of women throughout the world, conceiving innovative and concrete action plans to encourage women's contribution to society, and promoting diversity in the business world.
Building on the theme "Let's Innovate!", Global Women's Forum Dubai will explore what innovation really means in today's technology-focused era. The event will address women's sustainable role in this revolutionary world, with the aim of strengthening the influence of women globally, maximising their contribution to socio-economic development, and inspiring future generations of women to actively participate in nation-building. Global Women's Forum Dubai will build on the theme of innovation through five key pillars, Achieving, Creating, Giving, Energising and Sustaining, addressing the sustainable role of women in innovation and building long-lasting networks designed to empower societies through women's participation.
The event will feature the renowned Women's Forum for the Economy & Society Discovery' exhibition, offering a range of creative hubs hosting interactive workshops and exhibits to build on the various topics explored during the main plenary sessions. CEO Champions, a Women's Forum for the Economy & Society initiative launched in 2010 to drive progress and accountability for women's advancement in the private and public sectors, will also be part of Global Women's Forum Dubai 2016, in addition to other key Women's Forum initiatives such as Rising Talents, Women in Media, and the Cartier Women's Initiative Awards.
Follow Emirates 24|7 on Google News.