Turkmenistan media team visits GDMO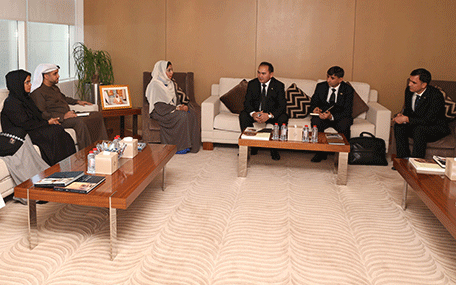 Director-General of the Government of Dubai Media Office (GDMO) Mona Al Marri today received an official media delegation from Turkmenistan led by the Head of the Turkmenistan Press Office.
The delegation and Al Marri discussed how the media sectors of both countries could increase the level of interaction and share experiences and knowledge with each other. The parties also discussed potential initiatives that could be undertaken to enable media of both countries to work together.
Al Marri said that the GDMO and the broader media sector in Dubai are keen to expand their network of relationships with media communities across the world.
"We are keen to welcome media delegations from around the world as these interactions give us a great opportunity to exchange ideas and experiences. In a world where the media industry is undergoing rapid changes, sharing our success stories as well as learning from other countries' experiences will help in expanding each other's knowledge and strategic expertise."
The head of the Turkmenistan media delegation said the delegation is keen to learn more about the growth and achievements of the media sector in Dubai, and explore potential opportunities for partnership and collaboration.
The delegation had high words of praise for the rapid growth and significant advances made by the media sector in Dubai and its development into a global media hub that is home to some of the largest media companies in the world.
Follow Emirates 24|7 on Google News.