UAE and India have a shared history and a shared future: paper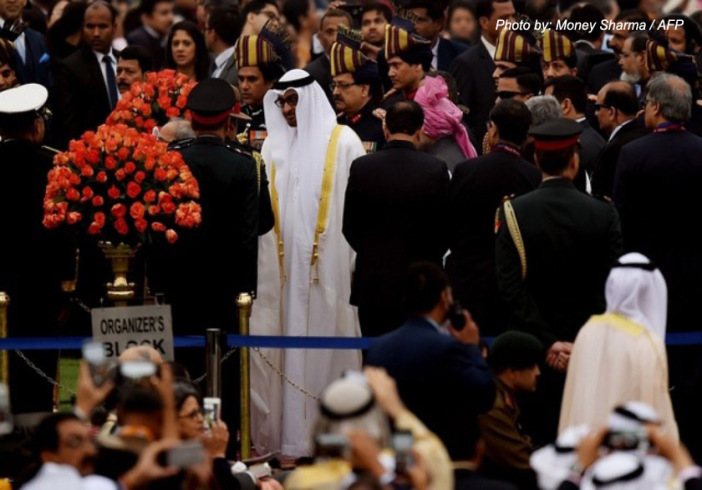 A UAE newspaper has said that the three-day visit of His Highness Sheikh Mohamed bin Zayed Al Nahyan, Crown Prince of Abu Dhabi and Deputy Supreme Commander of the UAE Armed Forces, to New Delhi, has come to an end, but the relationship between the UAE and India is now beginning a new chapter.
In an editorial on Sunday, The National said that during Sheikh Mohamed's visit, the UAE signed several new agreements with India and recognised a commitment to support each other at the United Nations.
The paper went on to say, "For centuries, the region's relationship with India has been defined by people-to-people relations. From traders to Indian expatriates who have made their lives here, we have benefited from extra­ordinarily warm relations between people in business and in knowledge.
"Sheikh Mohamed's visit last week built upon this shared history and expanded it to the government realm. Just as Indians and Emiratis have worked together, the governments of the UAE and India will work together in the realms of security, technology, commerce and trade.
"In a world that is pivoting towards bilateral trade agreements, the slew of agreements and prospective investment partnerships between our country and New Delhi will give both a solid economic foundation. The UAE is one of India's largest trading partners and there are an estimated 60,000 Indian companies operating here. Sultan bin Saeed Al Mansouri, Minister of Economy and Head of the UAE delegation to the Partnership Summit 2017 in the Indian state of Andhra Pradesh, carried this message forward as he underlined the need to deepen the economic partnership and investment to push trade between the two countries beyond the US$50 billion (AED183bn) mark that was recorded last year.
"The agreements signed over the past week including measures to fight organised crime, terrorism, illegal migration and money laundering are the bedrock for a new chapter in our alliance with India. Additional measures such as a new agreement on labour and manpower are expected in the next six months.
"One can't easily replicate the tight bonds that we share with India. In the face of an uncertain global future, redoubling our bonds will prepare both countries and the region as a whole to address any challenge from a position of strength and solidarity," concluded the Abu Dhabi-based daily.
Follow Emirates 24|7 on Google News.