UAE, Bahrain discuss accelerating development work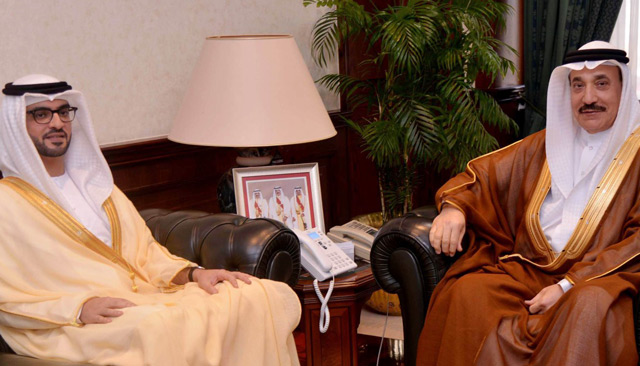 Bahrain's Labour and Social Development Minister and Board Chairman of the Labour Market Regulatory Authority (LMRA), Jameel bin Mohammed Ali Humaidan, has met with Sheikh Sultan bin Hamdan bin Zayed Al Nahyan, Ambassador of UAE to the Kingdom of Bahrain.
Humaidan welcomed the Emirati Ambassador and highlighted the distinguished fraternal relations between the UAE and Bahrain in the light of their wise leaderships and the deep-rooted historic ties between the two peoples.
He also indicated the importance of going steadily to develop mutual work and the existing cooperation, especially in the labour field and safeguarding social protection to achieve the desired objectives of sustainable development, as well as the joint coordination while participating in the GCC, Arab and international conferences and events.
Sheikh Sultan expressed his happiness at the meeting and holding constructive talks and stressed that he will work to translate the aspirations of the leadership of the two countries aimed to develop the existing ties to achieve the desired integration.
He also wished more development and prosperity for Bahrain.
In this regard, he also highlighted the Bahrain's stature at the GCC and global levels in provision of social care to various segments of the society, enhancement of the appropriate work environment, and the protection of labour rights, thanks to developing national legislation which are in line with international labour standards.
Follow Emirates 24|7 on Google News.