UAE desires to extend bridges of communication with the world: Mohamed bin Zayed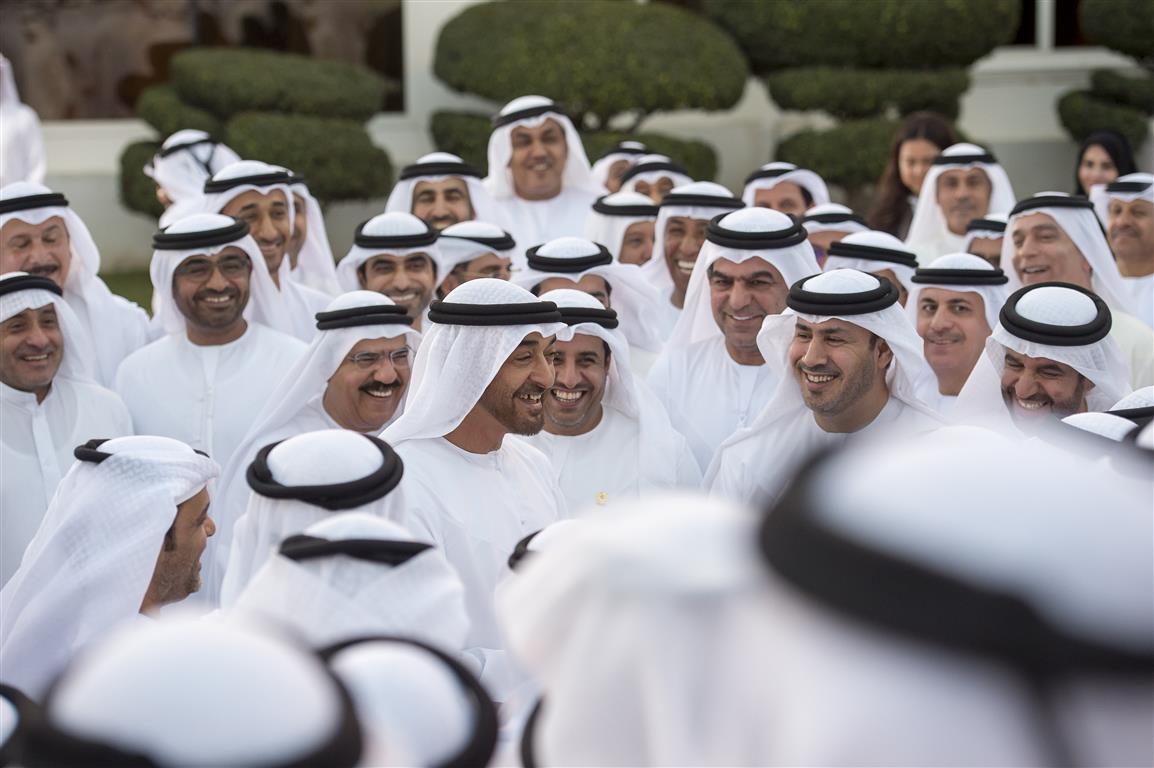 His Highness Sheikh Mohamed bin Zayed Al Nahyan, Crown Prince of Abu Dhabi and Deputy Supreme Commander of the UAE Armed Forces, has stressed that the UAE, under the leadership of President His Highness Sheikh Khalifa bin Zayed Al Nahyan, desires to extend the bridges of communication and constructive co-operation with all people and countries of the world, and invest in its exceptional relations with different countries to serve the benefits of the country and its citizens.
His Highness said, during today's reception of ambassadors and heads of overseas UAE delegations at the Qasr Al Bahr Palace, accompanied by Dr. Anwar bin Mohammed Gargash, Minister of State for Foreign Affairs, and Dr. Sultan bin Ahmed Sultan Al Jaber, Minister of State, that this co-operation is based on high goals and principles, whose foundations were set by the Founder Sheikh Zayed bin Sultan Al Nahyan, based on tolerance, humanitarian co-existence, and supporting regional and international peace, security and stability.
His Highness Sheikh Mohamed bin Zayed Al Nahyan praised the important and vital role played by the country's ambassadors and its overseas representatives in serving the UAE and providing services for its citizens in their respective countries.
His Highness called on the ambassadors and members of Emirati diplomatic delegations to double their effort and work to strengthen the positive image of the UAE around the world, while spreading its supreme message and values of noble civilisation that encourage tolerance and co-existence as foundations for achieving stability and development, which are desired by the different people of the world.
"The UAE, due to its pioneering developmental policies and its wise political directions, has an effective regional and international presence and an important and constructive role in regional and international issues. This places great responsibilities on its ambassadors and overseas representatives, and I am sure that they are capable of fulfilling the nation's commitments and be the best ambassadors for their nation and the whole Arab world on an international stage," His Highness added.
The meeting was also attended by Dr. Amal Abdullah Al Qubaisi, Speaker of the Federal National Council, FNC; Sheikh Tahnoun bin Mohammed Al Nahyan, Abu Dhabi Ruler`s Representative in the Eastern Region; Sheikh Nahyan bin Zayed Al Nahyan, Chairman of the Board of Trustees of the Zayed bin Sultan Al Nahyan Charitable and Humanitarian Foundation; Sheikh Hamed bin Zayed Al Nahyan, Chief of the Abu Dhabi Crown Prince's Court; Sheikh Mohammed bin Khalifa Al Nahyan, Executive Council Member, and a number of sheikhs and high officials.
Follow Emirates 24|7 on Google News.