UAE has clear vision for future and progress of its people: Mohammed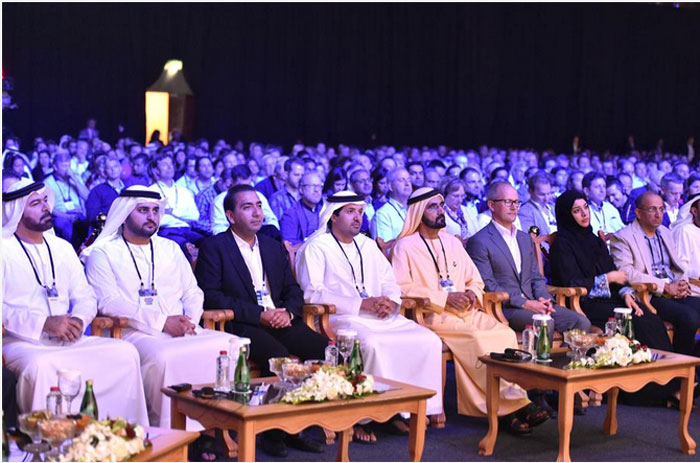 His Highness Sheikh Mohammed bin Rashid Al Maktoum, Vice-President and Prime Minister of the UAE and Ruler of Dubai, accompanied by Sheikh Maktoum bin Mohammed bin Rashid Al Maktoum, Deputy Ruler of Dubai, and senior government officials, on Saturday attended YPO Edge, the annual flagship conference of the Young Presidents' Organisation, being held at Dubai World Trade Centre.
The YPO is the world's premier non-profit network of chief executives and business leaders connecting 24,000 members in more than 130 countries through a series of programmes around the world focussed on innovation and entrepreneurship. At the YPO's Edge conference, some 2,500 business executives and thought leaders will speak on subjects from politics, philanthropy and humanities.
Sheikh Mohammed welcomed the conference in the UAE and stressed that the UAE and the YPO share the common goals of making the world a better place for the coming generation and driving innovation and creativity to empower people to counter ever increasing global challenges and boost development to benefit all humanity with a focus on less privileged countries.
Since its establishment, the UAE has been taking great interest in playing effective regional and international roles, Sheikh Mohammed noted, adding that this has taken multiple forms including development projects launched by the UAE in more than 140 countries.
"The UAE looks forward to a shift from "partnership" in making a better future for humanity to "leadership" in achieving this goal."
Sheikh Mohammed stressed that the UAE has a clear vision for the future and progress of its people using its national innovative human resources. "We have developed plans to achieve this vision and ensure happiness of all people living here in the UAE, including Emirati people and whoever visits the country."
He highlighted the role of the world's youth in making a better future and reiterated his confidence in their ability to create opportunities for development and progress using innovation and creativity.
He also stressed that the UAE has presented a successful model for understanding and co-existence based on solid foundations of tolerance, openness, acceptance of different cultures and thoughts.
This, he noted, is based on the deep conviction that diversity is a source of power.
He noted that in Dubai nationals of more than 200 countries live and work together in complete harmony and understanding while the government seeks to make all people happy, regardless of their sex or colour.
"Our environment taught us to be always fearless and ready when challenges come up no matter how difficult they might be, and to make relentless efforts to discover, in these very challenges, opportunities to overcome them using excellence and aptitude. Today, we have internationally-competitive institutions on which we pin great hope for the whole of our economy."
Sheikh Mohammed also highlighted the importance of positive energy in bolstering the ability of people to make strides in development and progress.
"This positive spirit has always been present in the achievements made by the UAE which spares no effort to promote this spirit among its own people and encourage them to embrace it as an approach to make further success and excellence," Sheikh Mohammed added.
Innovations in social entrepreneurship, medical breakthroughs, the future of business around the world, and women entrepreneurship, will be among in-depth topics to be discussed by high-profile speakers from around the world during the YPO Edge conference.
Mohammad bin Abdullah Al Gergawi, Minister of Cabinet Affairs and The Future; Reem bint Ibrahim Al Hashemi, Minister of State for International Cooperation, Hilal Saeed Al Marri, CEO of Dubai World Trade Centre and Director-General of Dubai's Department of Tourism and Commerce Marketing; and Khalifa Saeed Sulaiman, Director-General of Dubai's Protocol and Hospitality Department, also attended the launch of the YPO event.
Follow Emirates 24|7 on Google News.