UAE-India partnership committed to progress: Abdullah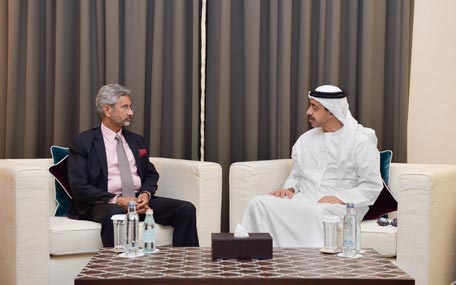 On the occasion of the official visit to India by His Highness Sheikh Mohamed bin Zayed Al Nahyan, Crown Prince of Abu Dhabi and Deputy Supreme Commander of the UAE Armed Forces, Sheikh Abdullah bin Zayed Al Nahyan, Foreign Minister, has reflected on the deep ties that bind the UAE and India, in an article published in the Hindustan Times, saying that the UAE and India now have a solid platform from which to elevate their relationship to the next level.
"The Indian Constitution set out to encapsulate the hopes, aspirations and ideals of the people following independence in 1947. It focuses on the principles of justice, liberty, equality and fraternity.
The UAE, in its Constitution of 1971 and through the words and deeds of our founding father, the late Sheikh Zayed, was also founded on progressive principles, placing peace, prosperity, stability, tolerance and unity at the heart of our relations with other nations and cultures.
When His Highness Sheikh Mohamed bin Zayed al Nahyan meets with The Honorable Narendra Modi, Prime Minister of the Republic of India, during his visit to New Delhi this week, these two partners will reflect on shared values while considering the rich past and vast potential of this deep strategic relationship.
Mumbai, then Bombay, once served as the UAE's primary gateway to India, a three-day boat trip across the Arabian Sea and a springboard for learning, medical treatment and opportunity to the East. In many ways, it was the UAE's window to the world. This stretch of water was the focus of our partnership, driving trade of textiles, food and gems, not to mention cultural and linguistic exchange. Pearling, a key driver of our economy before the discovery of oil, was dependent on India's access to international markets.
Today, the UAE has emerged as hub connecting the Indian Ocean region to other parts of the world thanks to the government's commitment to creating a leading business, industrial and transportation hub, driving regional connectivity and opportunity.
While some of those traditional goods still make up part of our powerful trade relationship, the fact that it is today worth in excess of US$59 billion per year demonstrates that the UAE-India economic ties continues to grow in step with the development of our two nations.
Supported by a range of dynamic economic initiatives driven by the Modi government, which have paved the way for the country's future growth, Emirati investment in India is now valued at almost US$10 billion. This visit is expected to help further increase investment and overall trade figures once again. Our mutual ambitions for our bi-lateral partnership are truly strategic.
And although India is already the UAE's largest trading partner, and we are India's third-largest, we have an ambitious five-year, 60 percent bilateral trade growth target, which demonstrates the mutual confidence each country places on the other's future and our shared commitment to elevate our partnership to new heights.
This growth will be driven by collaboration in sectors of mutual interest and opportunity for our two nations such as energy, aerospace, technology and infrastructure.
In particular, advanced technology and manufacturing are clear areas where the partnership between Indian and Emirati businesses can drive global opportunities. There are many examples of where this is already happening. An example is Invecas, the Hyderabad and Bengaluru based semiconductor intellectual property and design business, which has established a successful partnership with GlobalFoundries, the Abu Dhabi owned manufacturing business with operations in the US, Germany and Singapore.
Business aside, we must also not forget the human ties that connect us, from the significant cultural contribution Indian expats have made, and will continue to make, to UAE society, to a shared affection for the films of Bollywood that have seen the UAE emerge as a leading filming location for major Indian productions.
Built upon strong cultural, trade and historical foundations, the UAE and India now have a solid platform to elevate this relationship to the next level. This means increased dialogue and cooperation on issues such as regional security. This is an area of strong bilateral cooperation already, but opportunities still remain to work more closely together on a range of security issues, particularly counter-terrorism, maritime and cyber security, and also reaffirm our mutual respect for the principles of national sovereignty and non-interference.
Another is climate change, where our two nations recognise the serious global challenge this issue poses and see the development of sustainable energy sources as a shared strategic priority. This will be driven through partnerships at government, private, civil and academic levels.
As we look further ahead, and create a roadmap for deepening cooperation on these and other topics of global importance, what will the successful expansion of our deep-rooted, values-based strategic partnership look like?
I believe success will take many forms; greater regional security and stability, greater partnership in sustainable energy and advanced technology, greater empowerment for women, more flights between the UAE and India, more academic and cultural exchange and increased economic prosperity. We look at the journey ahead with great optimism."
Wam
Follow Emirates 24|7 on Google News.