UAE, India ties growing amid strategic partnership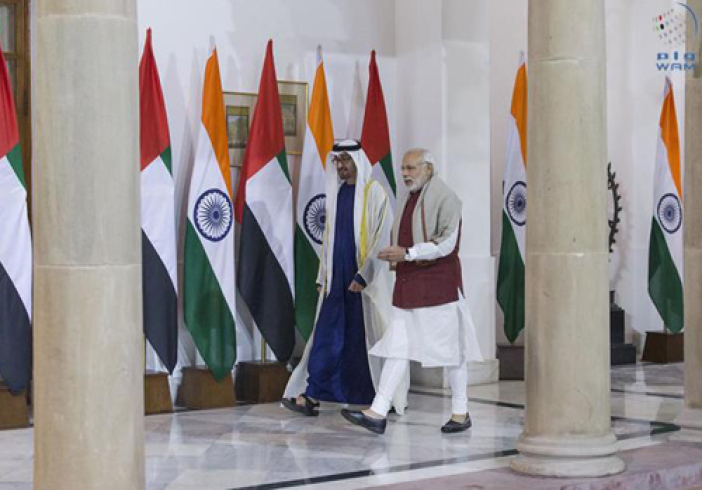 Relations between the UAE and India have witnessed significant growth, thanks to the solid foundation, laid by the late Sheikh Zayed bin Sultan Al Nahyan, and sustained by President His Highness Sheikh Khalifa bin Zayed Al Nahyan.
The rapid expansion in the relations is evident in the growing bilateral cooperation, the mutual ambition to continue to develop the potential of the UAE-India partnership, the continuous communication and the exchange of visits by their leadership.
The UAE and India are striving to strengthen their relations and strategic partnerships in many fields, keeping in mind the rapid regional and international changes.
The Emirati-Indian relationship is special because of both countries' age-old cultural connections. This is further strengthened by Indian expertise, so long present in the UAE.
UAE-Indian relations are further based upon the strong political will in both countries, expressed through high-level visits and the many agreements signed between them in past years.
Also, both countries established a joint committee at the foreign ministers level. The committee held many sessions since its inception, to discuss bilateral relations between the two countries.
His Highness Sheikh Mohamed bin Zayed Al Nahyan, Crown Prince of Abu Dhabi and Deputy Supreme Commander of the UAE Armed Forces once said; "The Republic of India is considered an effective regional and international force, which has a significant role in ensuring stability in the region and the world. The UAE looks forward to effective Indian contributions in tackling the challenges and dangers faced by the region and the world, finding fair solutions to the problems, crises and tensions in the Middle East, especially in light of India's international policy, its balance and wisdom, and how it is widely accepted regionally and internationally."
The UAE and India have agreed to strengthen their resolve to fight terrorism and work together to control the illicit financial flows, while strengthening relations in the field of defence fields.
Bilateral trade between the UAE and India accounted for US$ 17 billion during the first half of 2016. The two countries are aspiring to increasing trade by 60 percent to US$ 100 billion, reaching US$ 368 billion by 2020.
UAE's imports from India rose to US$ 11 billion in the first half of 2016, while non-oil exports to India reached 6 billion during the same period.
India is the UAE's second largest trading partner after China. The UAE, on the other hand, is the largest Arab investor in India and the11th foreign investor, in terms of Foreign Direct Investments (FDIs). The total value of Emirati investments in India was estimated at US$ 9 billion in 2015.
UAE investments in India span over a number of sectors, including construction, energy, metal industries, services, software and systems, petroleum products, precious metals, chemicals and wood products.
Follow Emirates 24|7 on Google News.