UAE leaders receive Egypt President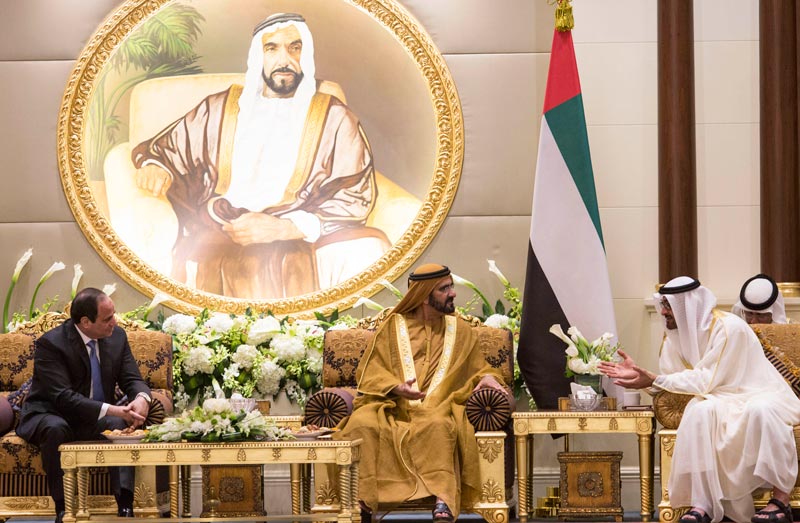 His Highness Sheikh Mohammed bin Rashid Al Maktoum, Vice-President and Prime Minister of the UAE and Ruler of Dubai, and General Sheikh Mohamed bin Zayed Al Nahyan, Crown Prince of Abu Dhabi and Deputy Supreme Commander of the UAE Armed Forces, on Sunday received President Abdul Fattah El Sisi of the Arab Republic of Egypt, who is on an official visit to the UAE.

Upon his arrival at Al Mushrif Palace, President El-Sisi, accompanied by Sheikh Mohammed bin Rashid, was accorded an official reception, where the national anthems of the two countries were played and a 21-gun salute was fired in honour of the guest.

Following the ceremony, Sheikh Mohammed bin Rashid accompanied the Egyptian President to the main hall of the palace, where he was welcomed by sheikhs, ministers and senior civilian and military officials.

Sheikh Mohammed bin Rashid and Sheikh Mohamed bin Zayed held a discussion with the Egyptian President. During the meeting, they welcomed El Sisi and his accompanying delegation, and expressed their pleasure about the visit, wishing that it would contribute towards enhancing fraternal and historic relations between the UAE and Egypt.

The Vice President and the Crown Prince of Abu Dhabi drew attention to the fact that the UAE, led by the President His Highness Sheikh Khalifa bin Zayed Al Nahyan, is keen on boosting ties and the existing bilateral cooperation in line with the strategic interests of the two fraternal countries and peoples.

They also said that the UAE's supportive stance towards Egypt and its people is historic and based on legacy of the late Sheikh Zayed bin Sultan Al Nahyan, who had realised Egypt's pivotal and important regional and international role, as well as its role to act as a safety valve for the region's stability and security.

Sheikh Mohammed bin Rashid and Sheikh Mohamed bin Zayed expressed their full confidence in the ability of the Egyptian people and its leadership to face all challenges and go steadily towards success to achieve security, stability and progress, and underscore Egypt's role in the region's stability.

The two sides also tackled the fraternal cooperation ties, issues of mutual interest and the latest developments in the regional and international arenas as well as the distinguished relations between the two countries, especially in the political, economic and developmental domains.

On his part, the Egyptian President extended thanks and appreciation to the UAE's leadership and people for their historic stance towards the Egyptian people, praising its efforts and initiatives to support Egypt in the political and economic fields as well as its continuous support to the aspirations of Egyptians.










Follow Emirates 24|7 on Google News.