UAE Leaders receive Jiu-Jitsu International Federation's president, laud athletes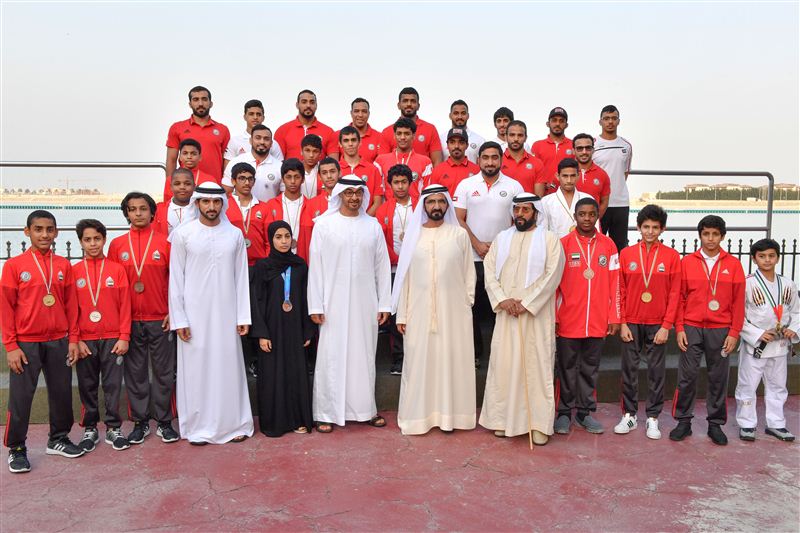 Vice President and Prime Minister and Ruler of Dubai, His Highness Sheikh Mohammed bin Rashid Al Maktoum, and His Highness Sheikh Mohamed bin Zayed Al Nahyan, Crown Prince of Abu Dhabi and Deputy Supreme Commander of the UAE Armed Forces, received on Monday a delegation of the Jiu-Jitsu International Federation, JJIF, led by its President Panagiotis Theodoropoulos.
The UAE leaders also welcomed a delegation of the UAE Jiu Jitsu Federation and a number of athletes who won continental and international jiu-jitsu championships in 2016.
The meeting, held at Al Bahr Palace, was also attended by Sheikh Hamdan bin Mohammed bin Rashid Al Maktoum, Crown Prince of Dubai, and Sheikh Tahnoun bin Mohammed Al Nahyan, Abu Dhabi Ruler's Representative in the Eastern Region.
Congratulating the winners for their landmark achievements over the past two years, Their Highnesses Sheikh Mohammed bin Rashid and Sheikh Mohamed bin Zayed expressed their happiness at the great performances, combat skills and the enthusiasm shown by the athletes. They also urged the athletes to pursue their path of excellence in order to win more prestigious titles in international tournaments.
During the meeting with the JJIF delegation, the UAE leaders discussed the remarkable, qualitative progress of the martial art during recent years and its increasing popularity across the world. They also thanked the JJIF for supporting and encouraging the sport, which contributed to its progress.
Last year, the UAE fighters won nine medals in the Asian Beach Games in Vietnam in October, and eight medals in the Asian Jiu-Jitsu Championship held in Turkmenistan while the UAE's Faisal Al Ketbi clinched the gold in the World Championship in Poland.
The UAE team also bagged 19 medals in the first Abu Dhabi Grand Slam Jiu-Jitsu Tour, held in Los Angeles last September, 13 medals in the second tour in Tokyo last October and 24 medals in the third tour in Rio de Janeiro last November.
The UAE won a whopping 105 medals in the fourth round held in Abu Dhabi last week.
During its recent meeting, the Jiu-Jitsu International Federation decided to move its headquarters to Abu Dhabi.
Follow Emirates 24|7 on Google News.