UAE's non-oil trade surges 22%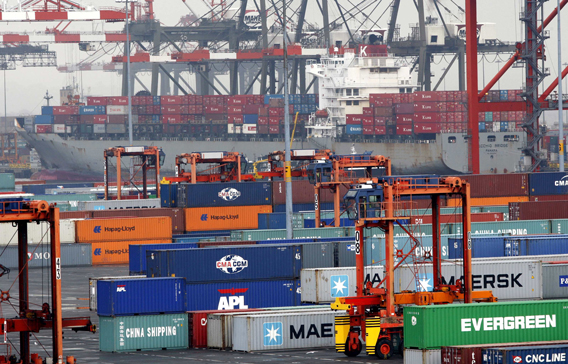 The UAE's non-oil foreign trade shot up 22 per cent to Dh600.1 billion in the first eight months of 2011 compared from Dh492.5 billion in the same period of the previous year, according to Federal Customs Authority statistics.
Imports rose 22 per cent from Dh317.5 billion to Dh386 billion during the same period. Exports shot up 40 per cent from Dh53.6 billion to Dh75.2 billion and re-exports grew 15 per cent from Dh121.4 billion to Dh139 billion during the same period.
The UAE's total foreign trade in August 2011 totalled Dh 76.2 billion, up 14 per cent from Dh66.5 billion in the same same month of the previous year. Imports in August 2011 rose 18 per cent to Dh48.9 billion while exports improved 15 per cent to Dh10.4 billion. Re-exports edged up four per cnt to Dh16.8 billion.
FCA statistics indicate that India, China, the US, Japan, Germany, South Korea, the UK, Italy, Switzerland, and France topped exporters' list to the UAE in August 2011 with a total value of Dh29.4 billion, or 60 per cent of the UAE's total imports.
In non-oil exports, India, Switzerland, Saudi Arabia, Iran, Kuwait, South Africa, Iraq, Thailand, Turkey, and Hong Kong topped the list of importers from the UAE with Dh7.7 billion, accounting for 74 per cent of UAE exports.
India, Iran, Belgium, Iraq, Hong Kong, Afghanistan, Saudi Arabia, Switzerland, Kuwait, and Qatar topped the list in re-exports with Dh12.4 billion, representing 73 per cent of the UAE total re-exports.
The total value of UAE's-GCC non-oil foreign trade was Dh4.8 billion in August, 2011, of which Dh2.2 billion was imports, Dh1.1 billion exports and Dh1.5 billion re-exports. Saudi Arabia maintained its first rank among GCC region's trading partners with a total value of Dh2 billion in August 2011. Kuwait came second with Dh799 million, followed by Oman (Dh727 million), Bahrain (Dh679 million) and Qatar (Dh559 million).
The UAE's total foreign trade with Arab countries amounted to Dh9.5 billion in August, 2011, with Dh5 billion in imports, Dh1.8 billion in exports and Dh2.7 billion in re-exports.
Saudi Arabia topped the list of Arab states non-oil trade with the UAE, followed by Iraq, Morocco, Sudan, Oman, Bahrain, Kuwait, Qatar, Egypt, and Comoros.
Preliminary statistical data for August 2011 showed that gold ranked first among imports with a value of Dh9.4 billion, followed by diamonds (Dh4.2 billion), cars (Dh2.6 billion), ornaments and jewelry (Dh1.3 billion) and telephone sets (Dh659 million).
Gold, according to FCA, also came first among exports in August 2011 with Dh6.6 billion, followed by petroleum oils and other derivatives (Dh334 million), and ornaments and jewelry (Dh173 million).
In re-exports, diamonds came first Dh5.2 billion followed by ornaments, jewellery and related products Dh 934 million, cars (Dh931 million) and telephone sets (Dh784 million).
The total trade of UAE free zones and markets in August 2011 amounted to Dh1.3 billion.


Follow Emirates 24|7 on Google News.