VP, Abu Dhabi Crown Prince discuss key national issues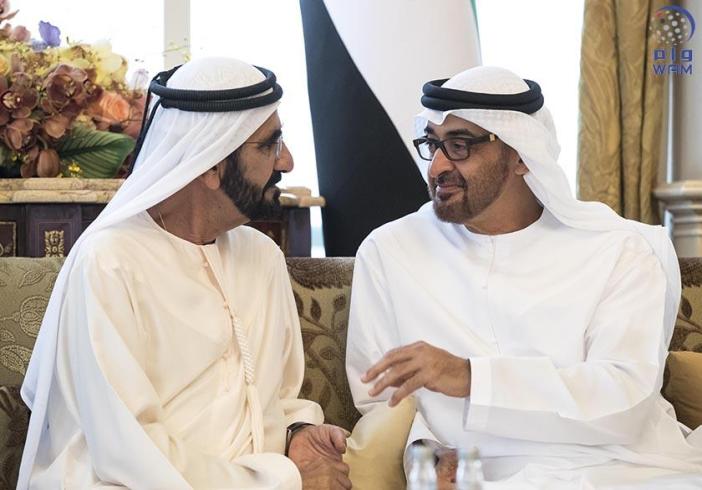 Vice President and Prime Minister and Ruler of Dubai, His Highness Sheikh Mohammed bin Rashid Al Maktoum, and His Highness Sheikh Mohamed bin Zayed Al Nahyan, Crown Prince of Abu Dhabi and Deputy Supreme Commander of the UAE Armed Forces, held talks on Monday about a variety of issues concerning the nation and its people, and the course of national development, guided by a road map in sync with the vision of President His Highness Sheikh Khalifa bin Zayed Al Nahyan.
The talks were held when His Highness Sheikh Mohammed bin Rashid paid a visit to the Abu Dhabi Crown Prince at Al Bahr Palace in Abu Dhabi.
The President's vision is based on a bright record of achievements supported by strong national solidarity and cohesion, and ambition driven by dynamic national initiatives, which are capable of delivering results without compromising the UAE's national identity, authentic human values and the vibrant foreign policy that solidified the country's prominent standing regionally and globally.
Their Highnesses Sheikh Mohammed and Mohamed bin Zayed took pride in the initiative of giving and the achievements made by the young generations who are now guiding national development and progress, building upon what had been achieved by the founding fathers, to make the UAE an oasis of goodness, tolerance and peaceful co-existence that has won praise and respect from the world.
Sheikh Mohammed bin Rashid was accompanied by Sheikh Hamdan bin Mohammed bin Rashid Al Maktoum, Crown Prince of Dubai, and Sheikh Ahmed bin Saeed Al Maktoum, Chairman of Dubai Civil Aviation Authority and Chairman of Emirates Group.
The meeting was also attended by Sheikh Abdullah bin Rashid Al Mu'alla, Deputy Ruler of Umm Al Qaiwain, Dr. Amal Abdullah Al Qubaisi, Speaker of Federal National Council (FNC), Sheikh Tahnoun bin Mohammed Al Nahyan, Abu Dhabi Ruler`s Representative in the Eastern Region, General Sheikh Saif bin Zayed Al Nahyan, Deputy Prime Minister and Minister of the Interior, Sheikh Omar bin Zayed Al Nahyan, Deputy Chairman of the Board of Trustees of Zayed bin Sultan Al Nahyan Charitable and Humanitarian Foundation, Sheikh Khalid bin Zayed Al Nahyan Chairman of the Board of Zayed Higher Organisation for Humanitarian Care & Special Needs (ZHO), and a number of Sheikhs and senior officials.
Follow Emirates 24|7 on Google News.