VP commissions UAE-made Baynunah-class corvette Al Hili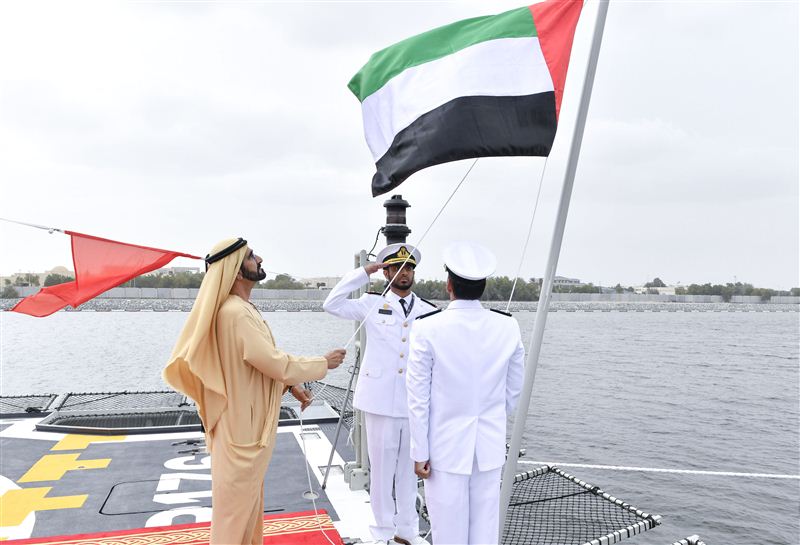 Vice President and Prime Minister and Ruler of Dubai, His Highness Sheikh Mohammed bin Rashid Al Maktoum, today officially inaugurated Al Hili, the sixth and the latest Baynunah-class corvette built by Abu Dhabi Ship Building, ADSB, for the UAE Navy, in a ceremony held at NAVDEX, the naval defence and maritime security section of the tri-service International Defence Exhibition and Conference, IDEX 2017.
After he commissioned the new 72m-long corvette into service by raising the UAE flag on the deck, he toured the command-and-control unit and discussed the vessle's advanced combat capabilities with Navy officers.
"Al Hili corvette was produced by bright national minds and strong arms. It is a 100 percent national product and is another proof that we have long been masters of the sea. Shipbuilding was the craft of our ancestors that will always be an immortalised heritage and a source of pride for successive generations," he said.
He also congratulated the UAE Armed Forces and the Navy on taking delivery of the new pieces for the fleet, which would help protecting the UAE's sovereignty over its territorial waters.
"Godspeed. Be strong believers in Allah, trust your capabilities and skills, and preserve your weapons and your country's gains," H.H. Sheikh Mohammed bin Rashid said.
Baynunah corvettes are a unique class of warship with multi-mission capabilities, including coastal patrol and surveillance, mine detection and avoidance, helicopter operations, and anti-air and anti-surface capabilities. Baynunah utilises the latest in weapons and sensor technology and has an advanced firepower, said Khaled Al Mazrouei, CEO of ADSB.
ADSB has built 268 ships for the navies of the UAE, other members of the Gulf Co-operation Council, India and African countries, he noted.
Inaugurated in 1996, ADSB initially focused on naval repairs and refits and gradually expanded its expertise to include building sophisticated war ships.
H.H. Sheikh Hamdan bin Mohammed bin Rashid Al Maktoum, Crown of Dubai; H.H. Sheikh Ahmed bin Saeed Al Maktoum, Chairman of Dubai Civil Aviation Authority and Chairman of the Emirates Group; Mohammed bin Ahmed Al Bowardi, Minister of State for Defence Affairs; Noura bint Mohammed Al Kaabi, Minister of State for Federal National Council Affairs; Lt. General Mohammed Abdulrahim Al Ali, Assistant Under-Secretary at the Ministry of Defence; Lt. General Hamad Mohammed Thani Al Rumaithi, Chief of Staff of the Armed Forces; Major General Ibrahim Salim Mohammad Al-Musharkh, Commander of the Naval Forces, and a number of high-ranking commanders from the UAE Armed Forces were also present at the event.
Follow Emirates 24|7 on Google News.