Water is more important than oil for UAE: Mohammed bin Zayed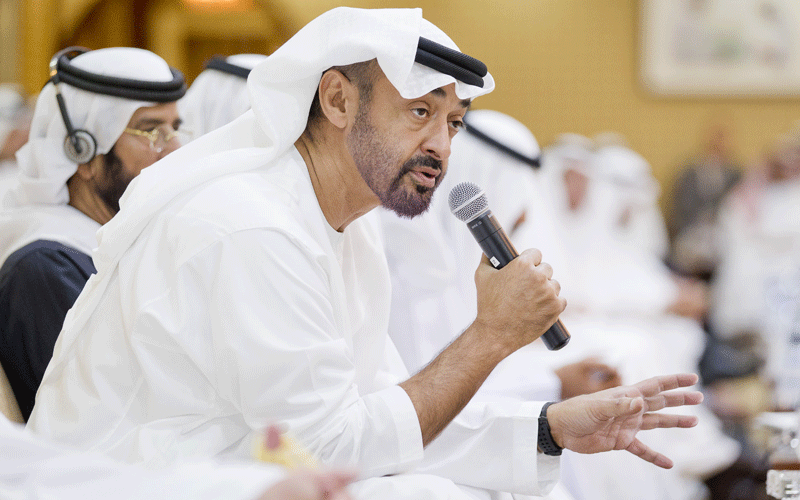 General Sheikh Mohammed bin Zayed Al Nahyan, Crown Prince of Abu Dhabi and Deputy Supreme Commander of the UAE Armed Forces stressed that water is more important than oil for the UAE as the region now faces this serious and highly critical issue.
"We are preoccupied by this major issue," Sheikh Mohammed commented after a lecture on the world's fresh water at his court by Dr. Peter Gleick, co-founder and president of the California-based Pacific Institute for Studies in Development, Environment, and Security.
"I believe the problem lies in the fact that the population of the Arabian Peninsula is incessantly growing while the region today does not possess a lot of resources."
"Today, water can be provided through desalination, but within decades the situation will be different as there are no rivers in the region and no technology at present under our disposal to help meet the region's demand on fresh water. Therefore we have to focus our efforts on conducting relevant studies and researches and on drawing up suitable strategies and solutions to come up with ways to meet future demand and preserve natural resources for the coming generations," Sheikh Mohammed added.
Among the audience were Sheikh Mohammed bin Saud bin Saqr Al Qasimi, Crown Prince of Ras Al Khaimah, Sheikh Hamdan bin Zayed Al Nahyan, Ruler's Representative in the Western Region, Mohammed Ahmed Al Murr, speaker of Federal National Council, Sheikh Tahnoun bin Mohammed Al Nahyan, Abu Dhabi Ruler`s Representative in the Eastern Region, Lt. General Sheikh Saif bin Zayed Al Nahyan, Deputy Prime Minister and Minister of Interior, Sheikh Hamed bin Zayed Al Nahyan, Chief of Abu Dhabi Crown Prince's Court, Sheikh Nahyan bin Mubarak Al Nahyan, Minister of Higher Education and Scientific Research, Sheikh Hamdan bin Mubarak Al Nahyan, Minister of Public Works, sheikhs, ministers and senior officials.
In his lecture titled "The Worlds' Freshwater: Towards a Sustainable Future", Gleick praised efforts by the UAE to preserve energy, water and natural resources.
Commenting on his visit to Abu Dhabi's Masdar City, an emerging global clean-technology cluster, represents a brilliant model of integrated thinking, on the academic, industrial and institutional levels.
According to the researcher, using smart water technology there proves the advanced educational effort to find new ways and new resources, he remarked.
The quantity of freshwater that is available around the world is very small and is related to all human needs and it needs a lot of energy, Gleick further remarked.
Follow Emirates 24|7 on Google News.