We put out Address fire, we'll put out Yemen fire: Saif @ #WorldGovSummit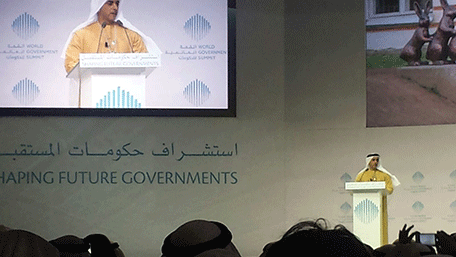 Sheikh Saif Bin Zayed Al Nahyan, UAE Deputy Prime Minister and Minister of Interior, addressed the delegates on Day 1 of the ongoing World Government Summit in Dubai.
"I am happy to be here in the fourth edition of the summit," Sheikh Saif said.
He played a video of the New Year's Eve fire at the Address Downtown Hotel in Dubai, and said that that fire was just like any other incident.
"Shaping the future is possible if you're well prepared," he said.
"The outcome will be like what we saw on screen," he said as the video footage showed the fire being brought under control without any casualties.
"Shaping the future did not start in 2015," he said.
"In 2003, we had a fire," Sheikh Saif said. "There was mismanagement then… failing to control fire."
He said that, at that time in 2003, His Highness Sheikh Mohammed bin Rashid Al Maktoum, Vice-President and Prime Minister of the UAE and Ruler of Dubai, had to arrive at the site to manage the operations.
He said that this wasn't the level that the issue should have reached.
"Now results are tangible, Sheikh Saif said. "I recall: priorities determine outcome."
After shaping the future, there is a need to gather all work and action for success, he said.
"Superman is only in movies. Integrated doctrine is key to shape the future," he said.
"The video of fire reflects integration," said Sheikh Saif. "But integration of whom?"
"It's integration of leadership of the government and society," he answered.
Sheikh Saif saluted the men who were valiantly involved in extinguishing the fire.
He said that he wanted to tell all that the UAE societycontributed its efforts in successfully bringing that fire under control, without any casualties.
"There was no power outage," he said, and referred to the flawless crowd management.
"There were 1.5 million people there in the square," Sheikh Saif said. "A single entity can't achieve this. It's the work of all of you," he said.
He once again referred to the 2003 fire, and pointed out that "such integration shown during NYE 2016 started back in 2003."
Sheikh Saif sad the UAE was blessed to have two sheikhs. "They complement each other and are integrated," he said.
"State of UAE sets a model for integrated doctrine," he said.
He said that impacted people were updated continuously via social media over three days.
"The satisfaction percentage is 98 per cent," he said.
He also thanked the media outlets for playing their part in sharing information at the critical time.
"We say to pessimists: We learn from our mistakes. From others' mistakes," said Sheikh Saif, "so that people in the UAE enjoy stability," he said.
The futuristic outlook of the UAE will remain of utmost importance, he said.
He said that, after the fire, NYPD chief William [Bratton] called him and offered assistance.
"This is integration. Thank you William," Sheikh Saif said.
"The government and states forge their own doctrines. The President of the UAE has chosen that the doctrine of the state unites rather than divides, constructs rather than destroys. This is doctrine of Emiratis. It was built on extraordinary leadership. And by its people," he said.
"As a result of this doctrine, the UAE has been able to achieve results in global competitiveness," he said. "Our most cherished asset is the federal state of the UAE. It looks into future of our sons and daughters. In humanitarian aid, we are No. 1. We invited GCC brothers with their own integrated doctrine," he said.
To the seven Emirati gardens, he said.
"The UAE wants to help its brothers in Yemen. We went to restore hope in Yemen. And give back its right to people," he said.
The UAE has contributed to promoting education, health and infrastructure in Yemen.
"69 schools, 19 hospitals, 6 power plants, 13 police stations…" he said.
"Despite all challenges, the UAE ranked No. 1 in the government index globally. In quality of government decisions, we ranked No. 2. In trust in political decisions, second rank globally," he noted.
"This is the work of UAE society," he said. "On social level, certain states might be afraid of investment in human resources," he said. "But Sheikh Khalifa's doctrine invests in human resources. You ask universities to nominate under-25 ministers. You ask Emirati youth to perform national service. Their readiness to answer the call was a model," he said.
Sheikh Saif noted that the UAE leaders made room for women. "And they volunteered. They joined armed forces. This is integration. The family of martyr has the highest role in this integration, particularly the mother," he said.
"The wounded in hospital ask commanders permission to rejoin the battle."
Talking about economics, he said the UAE was prudent in investing in diverse resources despite plentiful oil as it realises that oil will run out someday.
"The cost of alternative energy is 28 per cent cheaper than production of oil," he said.
"We had a dream in the UAE – to have the highest building, but also most stable peninsula. If you have a target, you will achieve it despite challenges," he said.
Comparing the Address Downtown fire with Yemen fire, he said: "We had an option and we intervened. As we put out the fire in the Address, we will put out the fire in Yemen. With integrated doctrine."
Follow Emirates 24|7 on Google News.