Women in energy industries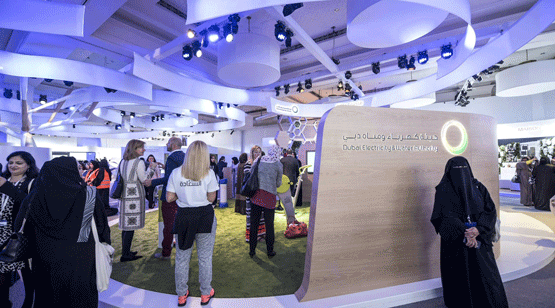 Global Women's Forum Dubai today underscored the importance of women's participation in energy industries during an insightful session on "Gender Matters for Energy" held at the Madinat Jumeirah in Dubai.
Moderated by Rym Tina Ghazal, Senior Features Writer and Columnist for The National newspaper, the session's two guest speakers described their passion for the energy industry as well as their professional and personal circumstances which lead to the eventual roles they currently occupy.
Further to their own personal stories, the speakers provided hard facts concerning women's participation in science industries and the direct positive economic influence imparted by women's professional involvement in this arena.
As one of the speakers, Khawla Al Muhairi, Vice President of Marketing and Communications at Dubai Electricity and Water Authority, Dewa, elaborated on the reason that women should not shy away from this industry, saying, "It's so important for women to get involved because they constitute half of the world's population and therefore are directly and hugely affected by energy issues. They lead households and are not afraid to take important decisions in this area. Similarly, they must stand up and make themselves heard in the workplace. By studying, training and jumping on every opportunity presented to them, they can and will earn influential leadership positions and viewed as equals by their male peers."
Al Muhairi further explained that women networks, particularly within STEM fields are essential for the advancement of women in science industries.
Knowledge sharing and mentorship are key factors that encourage women providing them with the tools needed for sustainable success. "Early intervention" during girls' formative years, particularly high school and college, are also necessary for building a climate that reassures and emboldens women to choose science careers early in life. Khawla concluded with a fascinating fact: "Women's business acumen and knack for efficiency at Dewa alone, has already saved Dubai Dh700 million. This is what contributes to the world's economic development."
The second speaker Laure Alazet, New Business developer for ENGIE, South Asia, Middle East and Africa region and board member of Clean Energy Business Council UAE said, "I chose the energy industry because it ticks all the main boxes. Energy is vital to international relations, it's a critical and dynamic industry that drives politics, economics and societal change or development."
Expected to attract more than 2,000 participants and 100 speakers and international delegates, Global Women's Forum Dubai will bring together leaders from around the world – women and men – with the aim of considering new perspectives for today and tomorrow; creating a powerful, global network capable of boosting the influence of women throughout the world; conceiving innovative and concrete action plans to encourage women's contribution to society; and promoting diversity in the business world.
Follow Emirates 24|7 on Google News.