Hamdan opens Art Dubai 2016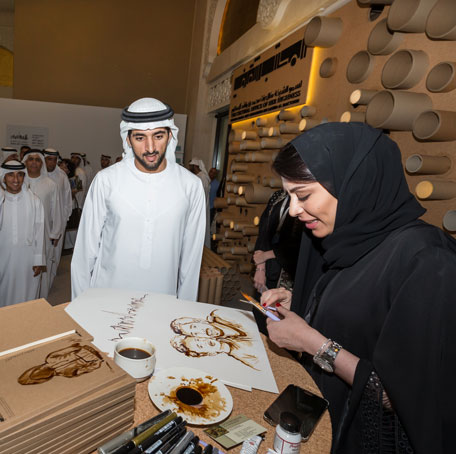 Sheikh Hamdan bin Mohammed bin Rashid Al Maktoum, Crown Prince of Dubai, inaugurated the 10th edition of Art Dubai 2016, and officially opened the leading international art fair in the Middle East, North Africa and South Asia.
The event, held under the patronage of Highness Sheikh Mohammed bin Rashid Al Maktoum, Vice-President and Prime Minister of the UAE and Ruler of Dubai, runs from March 15 to 19, 2016.
After the launch, Sheikh Hamdan visited the main galleries, which included Art Dubai Contemporary halls and Art Dubai Modern, featuring artists who proved influential in the 20th century, particularly through the vibrant modern period of the 1940s to 1980s.
Sheikh Hamdan also visited the booth of The Cultural Office, which is showcasing the projects under its umbrella, including The Sheikha Manal Art Exchange Programme, The Sheikha Manal Little Artists Programme and The Sheikha Manal Young Artist Award.
On the occasion, Mona bin Kalli, Director of The Cultural Office, said, "We are honoured to welcome Sheikh Hamdan to the Cultural Office booth to learn more about the initiatives of Sheikha Manal's Little Artist Programme. This programme aims to inspire and educate children and young artists to understand the importance of artistic knowledge and the value of learning about all facets across the arts spectrum. Partnering with a locally grown and globally recognised platform such as Art Dubai reflects the artistic and creative vision of our wise leadership to ensure the progress of a successful arts sector in Dubai."
An environmentally friendly booth, the TCO booth was designed by commissioned Emirati artist Zeinab Al Hashemi using sustainable materials.
Sheikh Hamdan met with local Emirati visual artist Ashwaq Abdullah, as she hosted a two-hour activity titled, "Personalise Your Sketchbook" using fast live sketches.
The agenda includes artist-led workshops for pupils at two Dubai schools in the lead up to Art Dubai. The workshops were supported by UAE-based apprentices, Asmaa El Afifi, Alia Lootah, Isabella E. Toledo, Zahia Abdul and Maryam Saffarini and led by London-based artist Polly Brannan who will also lead a programme of workshops throughout Art Dubai titled the "Mobile Variety Club" - which will focus on children and their families creating their own artistic performances such as comedy sketches, songs, dance, poetry readings, puppetry and theatre – using different props, including costumes, posters and visuals from their own creations. Discovery tours will also be guided by UAE-based and international artists and the workshops will consist of six zones where participants create their own production with the help of the lead and apprentice artists.
Follow Emirates 24|7 on Google News.