Heroes take down terrorist gunman on high-speed France train [video]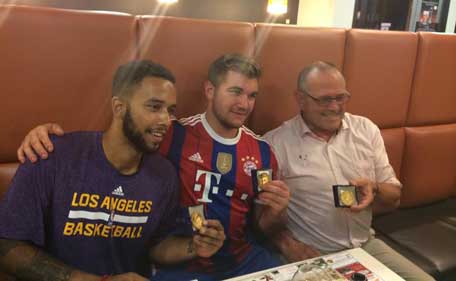 Relatives of the three Americans who tackled and disarmed a gunman on a European train say they are proud of the men and relieved they weren't killed during those chaotic moments onboard a high-speed train traveling from Amsterdam to Paris.
Three American friends on a European vacation found themselves hailed as heroes Saturday after subduing a gunman on a train as it sped through the countryside on its way to Paris, with assistance from a British businessman and a French passenger.
One of the trio - two US servicemen and a college student - was recovering from wounds suffered in Friday's attack, as plaudits poured in from the US President Barack Obama, French President Francois Hollande and others.
Obama called the three on Saturday, and commended them on their "extraordinary bravery," saying their actions had forestalled an even greater tragedy, the White House said.
In this image made from TV, Anthony Sadler, a senior at Sacramento State University, left, sits with Alek Skarlatos, US National Guardsman from Roseburg, Oregon, who both helped overpower high-speed train attacker, talk to the media early Saturday Aug. 22, 2015, in Arras, France. (AP)
Here are the five and the role they played in foiling what could have been a mass killing:
Spencer Stone
Spencer Stone, a US Air Force member, was the first to reach the gunman before being slashed in the neck and hand with a box-cutter.
The 23-year-old was described by the others as strong and quick, and with the presence of mind to help stop the bleeding from a wounded passenger, even while seriously wounded himself.
"I saw a guy entering the train with an AK (Kalashnikov rifle) and a handgun and I just looked over at Spencer and said, 'Let's go, go,'" Spencer's friend, Alek Skarlatos said during an interview aired in the US media.
"Spencer got to the guy first," Skarlatos added.
An airman first class, he is stationed at Lajes Air Base in the Azores. Stone is originally from the Sacramento suburb of Carmichael in California.
Alek Skarlatos
Skarlatos, a member of the Oregon National Guard, had recently completed a deployment to Afghanistan and was treating himself to a month-long European vacation with his friends, the US media reported.
His father Emmanuel Skarlatos told KATU News he was inspired by his 22-year-old son's actions.
"He said he and his friend took down a terrorist on a train heading to Paris. Just like that, like it was no big deal," said the elder Skarlatos, 65. "I said, 'What?'"
Skarlatos was right behind Stone as he charged the attacker, grabbing the man's assault rifle and butting him on the head with its muzzle.
Stone's mother, Joyce Eskel, said she believed that Skarlatos saved her son's life.
"I really feel like they had a divine intervention and they were saved because the gun was at [Stone's] head and [the terror suspect] tried to shoot twice," Eskel told Sacramento's ABC news station affiliate.
Skarlatos is also originally from Carmichael.
Anthony Sadler
The third American was 23-year-old Anthony Sadler, a student at Sacramento State University.
He and a British business consultant, Chris Norman, helped subdue the man and keep him down, after he was tackled.
"He leaves here a young man on an excursion and he comes back France's national hero. I'm still wrapping my head around that," his father, Anthony Sadler Sr, said in an interview with NBC television.
Chris Norman
"I don't feel like a hero," said Norman, 62, who was the fourth man involved in restraining the gunman.
Norman is a Uganda-born British national who grew up in the south of France and has spent four years living in England, where he has family.
Norman is married with two children, one of whom is in the French navy, and two grandchildren.
The Daily Telegraph newspaper said he has lived in France for the past two decades and is based in the southern city of Nimes.
He said he helps African entrepreneurs find financing in Europe and was in The Netherlands looking for export credits for one of his clients.
Of his actions on the train, he said: "It was very rapid reasoning.
"My thought was, OK, I'm probably going to die anyway, so let's go. I'd rather die being active, trying to get him down, rather than simply sit in the corner and be shot.
"Once you start moving, you're not afraid any more."
A spokesman for British Prime Minister David Cameron's Downing Street office said: "The prime minister praised the extraordinary courage of the passengers who intervened and helped disarm the gunman, including the British consultant Chris Norman.
"The bravery of Mr Norman and the other passengers helped to prevent a terrible incident."
Norman said the harrowing experience didn't sink in until he tried to go to sleep Friday night.
"All I want to do is go home now," he said Saturday.
Unidentified Frenchman
A Frenchman who has not been identified was the first person to discover the attacker in the train restroom -- with a Kalashnikov slung over his shoulder, according to French Interior Minister Bernard Cazeneuve.
He "courageously tried to tackle him before the attacker fired several shots," he added.
Follow Emirates 24|7 on Google News.