How some Dubai residents are saving 40% on electricity bill?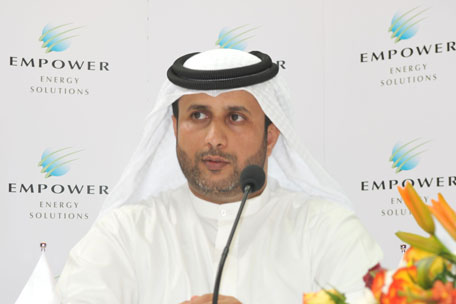 The chief of Emirates Central Cooling Systems Corporation (Empower), one of Dubai's top district cooling companies, wants to lower district cooling charges for end users though it has kept prices fixed for over a decade now.
"We have not raised our prices since we started but we are looking at reducing our rates.
"If you do a comparison of traditional air-conditioning versus district cooling, we are cheaper by almost 30 to 40 per cent," company Chief Executive Officer Ahmad Bin Shafar said in response to a question by Emirates 24|7.
He claimed they were offering the "cheapest" district cooling rates across Dubai.
In response to a question from this website on whether the government was working on regulating the sector, Al Shafar said: "The regulatory authority for district cooling is trying to discuss the challenge facing industry and has met with all the players.
"They want to put a bar on the price for district cooling and since we are the lowest in price people will accept to take our lead. We are willing to push it down, but then a lot of people will suffer in the industry."
In January 2016, Saeed Mohammed Al Tayer, Vice-Chairman, the Supreme Council of Energy in Dubai told this website that there would be no increase in district cooling charges.
Dh600m target profit for 2016
The company reported a net profit of Dh516 million for 2015, a 27 per cent increase, over 2014, with total revenues at Dh1.66 billion, a 12 per cent increase over 2014.
It achieved an annual increase of 6.7 per cent in its cooling capacity to over 1,115,000 refrigeration tons due to increased production and commissioning of new plants.
As for 2016, Al Shafar estimated profits to touch Dh600 million, with revenues of Dh1.88 billion.
The company expects to connect 52 building to its network, reaching 862 building by year-end from 810 buildings in 2015.
It plans to make the Business Bay district cooling plant 3 operational by second quarter 2016 and will be building a 25,000 RT plant for Bluewaters Island, which will house the world's largest Ferris wheel, and lay out chilled water pipes network across Madinat Jumeraih Phase 4.
No plans for IPO
The total cost of projects to be completed this year will be in the range of Dh1 billion to Dh1.2 billion.
Eighty per cent of the fund will be raised from local and global banks, while the remaining 20 per cent will be own funds. Current liability stands at Dh1.5 billion, which the company isn't looking at refinancing.
Al Shafar also ruled out plans for any initial public offering (IPO) during the year, citing 'unfavourable' market conditions.
"We have out our plan of going public this year on freeze, but the concept of IPO is there. We will take decision at the right time," he said.
The district cooling company operates over one million one hundred thousand Refrigeration Tonnes, providing environmentally friendly services to developments, such as Jumeirah Group, Business Bay, Jumeirah Beach Residence, Dubai International Financial Centre, Palm Jumeirah, Jumeirah Lakes Towers, Ibn Battuta Mall, Discovery Gardens, Dubai Healthcare City, Dubai World Trade Centre Residences and Dubai Design District, amongst others.
Follow Emirates 24|7 on Google News.