Hungary holds day of mourning for bus crash victims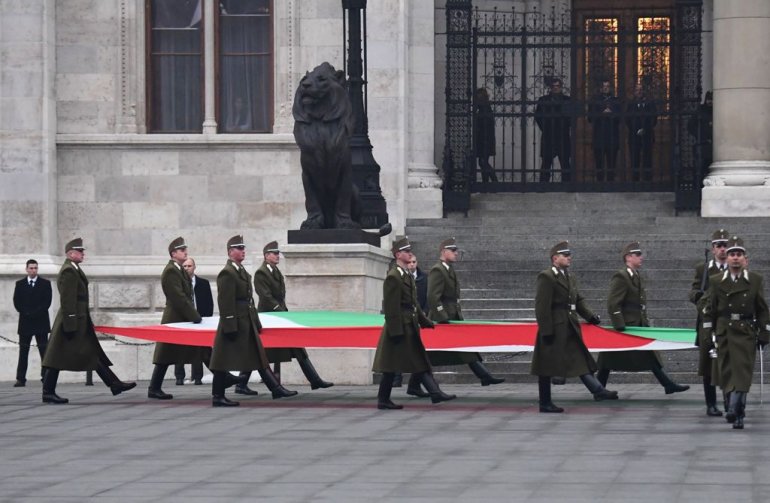 Hungary flew black flags at half-mast on Monday as part of a national day of mourning for the young victims of a coach accident in Italy that killed 16 people and left many injured.
The bus was carrying mostly students of a Budapest secondary school from a skiing trip in France when it crashed near the northern Italian city of Verona late Friday.
Hungarian President Janos Ader and Prime Minister Viktor Orban paid silent respect to the victims, while the national flag was lowered to half mast and a military band played the country's anthem outside parliament Monday morning. Saint Stephen's basilica, the capital's main church, tolled its bell nearby.
Students and teachers from the victims' Pal Szinyei-Merse secondary school in central Budapest were also attending the mourning ceremony.
Most of those involved in the accident were children aged around 15 or 16, but parents and teachers had also been among the 56 passengers on board.
The tragedy occurred when the coach crashed for as yet unclear reasons into a bridge pillar on a motorway near Verona, then burst into flames.
Several victims were catapulted out of the coach on impact but mostly they died inside. Those who managed to escape did so by desperately smashing windows and leaping out.
Some of those who survived largely unscathed were allowed to travel back home on Sunday.
"I don't know how to handle the fact that they died, now we have to stick together, be together with the others, those of us who survived," one of the students who returned to Budapest told Hungarian news website Origo.hu on Sunday.
The boy said he climbed out of the window after a huge bang woke him up.
Two of the 26 injured remain in critical condition in a Verona hospital.
Three of the seriously injured were transported Sunday by helicopter to a burns unit in a hospital in Budapest, with a fourth expected to arrive at the hospital Monday, according to local media.
As part of Monday's commemorations, staff at Budapest's public transport company wore black armbands as a sign of respect, and performances at the National Theatre have been cancelled.
An outpouring of flowers, candles and messages for the victims continued to grow outside the children's school.
Follow Emirates 24|7 on Google News.