IMF chief makes new bid for release from jail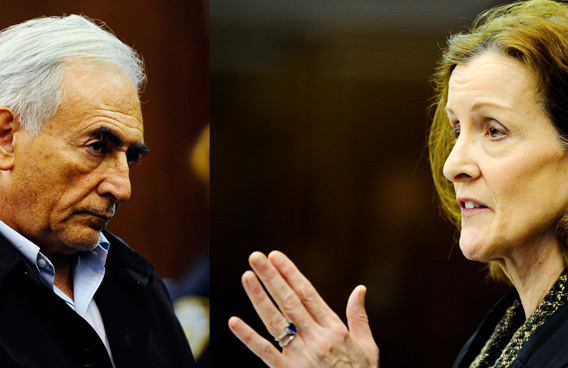 Dominique Strauss-Kahn's lawyers will tell a judge Thursday that the IMF chief has strong incentives to stay in the United States if he's granted bail, including a US-born wife and a ê4 million home in Washington.
Strauss-Kahn, a leading French politician, is jailed at Rikers Island awaiting a grand jury decision on whether to indict him on charges of the alleged sexual assault and attempted rape of a 32-year-old woman in a Manhattan hotel.
In addition to the ê1 million Strauss-Kahn's lawyers said he can post for bail, they said he's willing to be confined to a Manhattan apartment 24 hours a day, with electronic monitoring, until the case is resolved.
"These additional bail conditions eliminate any concern that Mr Strauss-Kahn would or could leave this court's jurisdiction," attorney Shawn Naunton wrote in the new bail application, which was posted late Wednesday on the New York Times website.
The 62-year-old went to great lengths to assure he would remain in New York, even swearing to waive all rights to extradition.
"I voluntarily waive all extradition proceeding of every kind and character," Strauss-Kahn wrote in a sworn statement two days after a judge deemed him a flight risk and denied him bail.
The new application describes Strauss-Kahn, who was scolded by the IMF in 2008 for an inappropriate but consensual affair with a then-IMF economist, as "a loving husband and father, and a highly regarded international diplomat, lawyer, politician, economist and professor, with no criminal record."
In a further bid to establish ties to the United States, the application said his American-born wife, journalist Anne Sinclair, is "currently working on a book about American political life." It adds that he has a daughter who lives in New York.
The filing includes a copy of the deed for their Washington home. It was bought in late 2007 for ê4 million. The application said it was bought by both Strauss-Kahn and Sinclair but the deed is in Sinclair's name only.
Despite the offer of ê1 million in cash as a guarantee at a hearing Monday, the judge deemed the veteran French politician was a flight risk, pointing to the fact he was escorted off an Air France flight minutes before it was to take off from John F. Kennedy International Airport.
France and the United States have no extradition agreement.
But Strauss-Kahn's defense team countered that decision in the filing Wednesday, arguing that he did not flee the Sofitel Hotel on Saturday.
Strauss-Kahn checked out of the hotel at 12:28 pm (1628 GMT) and "proceeded to a previously scheduled lunch a few blocks away" at 12:45 pm (1645 GMT).
After lunch, he was driven to the airport for a 4:40 pm (2040 GMT) Paris-bound flight that had been scheduled one week in advance for business meetings that were to begin Sunday in Germany, the lawyers said.
They added that Strauss-Kahn "voluntarily disclosed" to hotel officials, when he called to inquire about his missing cell phone, that he was at the airport.
The judge hearing the new offer on Thursday is different to the one who turned down bail on Monday and refused to reconsider even after lawyer Benjamin Brafman raised the idea of an ankle monitoring bracelet.
Follow Emirates 24|7 on Google News.