'In front of our eyes': Death of starving teenager in besieged Syria town of Madaya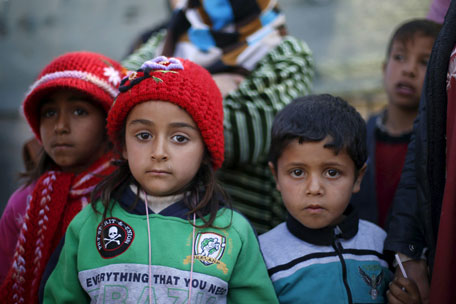 The United Nations Children's Fund, Unicef, witnessed cases of severe malnutrition among children in the besieged and famine-struck Syrian town of Madaya and the death of a severely malnourished teenager "in front of our eyes", hours after the UN chief, Ban Ki Moon, described the use of starvation tactics in the civil conflict as a war crime.

Hanaa Singer, Unicef representative in Syria, said in a statement Friday that the 16-year-old identified as Ali passed away Thursday in the town's clinic of severe malnutrition.

"Unicef is particularly saddened and shocked to have witnessed the death of Ali, a severely malnourished 16-year-old boy who passed away in the town's clinic in front of our eyes.

"It is simply unacceptable that this is happening in the 21st century," the UN agency said.

Trucks from the UN and other humanitarian organisations entered Madaya last week for the second time in a week after reports of starvation. The

The town has been under siege for months by Bashar Assad regime forces and Lebanese terrorist group Hezbollah.

Two other communities, Foua and Kefraya, in northern Syria were also included in the aid operation Thursday.

Singer said the people the agency met in #Madaya were "exhausted and extremely frail."

Ban Ki Moon said residents in the rebel-held town, which has been under siege by government troops for several months, were in desperate need of humanitarian assistance.

"Let me be clear," Ban told reporters in New York, "the use of starvation as a weapon of war is a war crime."

Madaya, a town of around 40,000 near Syria's border with Lebanon, has been besieged by Bashar Assad's regime forces and Lebanese Hezbollah militia for months. Horrific images of gaunt and emaciated locals sparked international outcry, prompting Assad regime last week to agree on allowing aid into Madaya.
Follow Emirates 24|7 on Google News.