In the heart of Navajo country, pupils work for greener future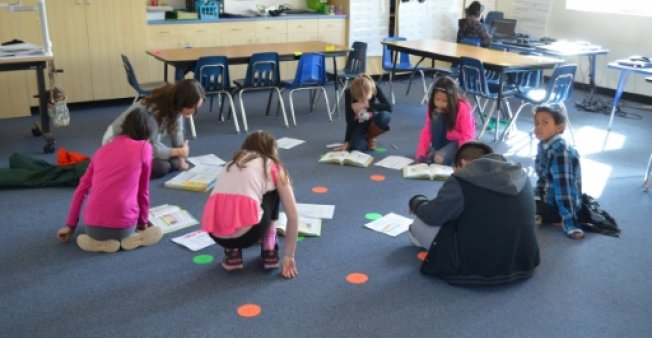 In the heart of Arizona's high desert, one of America's greenest schools is protecting the planet and its endangered culture by drawing inspiration from Native American values.
Classes at the STAR School, on the edge of the vast Navajo Nation reserve, are divided between English and -- when the fast-paced curriculum allows -- the local native language, known as diné.
In kindergarten, a teacher shows a handful of toddlers traditional weaving, while the children of elementary school age, some in traditional braids, discuss the rudiments of fiction writing or computing.
"I like this school because I have many family members here," one softly-spoken but happy girl, 11-year-old Akura, tells AFP.
The school's stellar name -- an acronym for "Service to all Relations" -- emphasizes the Navajo philosophy that every living thing is connected, from the smallest plant to the largest mammal.
"We teach children traditional peacemaking. We haven't had a fist fight in eight years," says the school's founder, Mark Sorensen.
"I've been a principal for 40 years and I can tell you, it's extraordinary."
The STAR, which caters to pupils of up to the end of middle school, generates all its electricity from two wind turbines and 300 solar panels.
It is an initiative born of ideology but also necessity, with no power grid out in the sticks, some 25 miles (40 kilometers) from the nearest city, Flagstaff.
"It has been estimated that between the Arizona and Nevada deserts (solar) panels could power half the country," says Sorensen, an ecologist who has been "off the grid" for years.

- 'Historical trauma' -
He founded the STAR school 17 years ago with his wife, paying for the first building with his own credit card.
The campus is now home to 130 students and has added a gym and a greenhouse, where students grow vegetables and herbs that are used in the canteen.
They learn to live in "renewable" mode but also become familiar with techniques in cultivating vegetables that have almost disappeared from dinner tables in the remote region where food is scarce.
The Navajo community, plagued by poverty and rife with drug addiction, domestic violence and health problems such as diabetes, still suffers from "historical trauma," as the locals term it.

In the mid-19th century, about 9,000 Navajos were driven off their land by the US military, deported on foot and marched hundreds of miles to be interned at Fort Summer in New Mexico.
A treaty was signed in 1868 authorizing them to become part of a federally-recognized protected area, the Navajo Nation reservation.
The children were sent away to boarding schools, where they were bullied and their language proscribed.
"It's a model that was used all over the world, with the aborigine people of Australia, everywhere," says Sorensen.
"Schools were this place where psychological violence was made to the people and the culture. There's lots of pain and anger among native families about school."
The STAR School and others like it are at the forefront of attempts to revive a culture that has been eroded by the Anglo-Saxon influx onto native lands.
- Internal conflict -
Eighth graders complete a scientific project that serves their community -- including one group that won a scholarship from Samsung for fashioning a simple bucket into a low-cost, low-energy air conditioning system.
As with any other public institution, the STAR School is not without its internal conflicts and competing priorities.
To hold on to its funding, it has to educate to the standard of local public schools, which means pupils attaining average C grades in what the US News rankings site describes as one of the worst states for education.
Non-native teachers lament the fact that attention to tradition impinges on class time which would otherwise be devoted to reading or mathematics.
Navajo teachers, on the other hand, complain that just two hours a week is dedicated to the study of their endangered language.
"(The authorities) tell you what to teach -- that this is more important than that -- and it's always the dominant western culture," says Revalane Nez, who'd like to spend time on stories of Navajo heroes and other aspects of history and culture.

She does what she can to keep her heritage alive via a Navajo culture club, a spring wellness camp and Navajo language camp.
But in Navajo families, it is sometimes only the grandparents who still speak the language fluently, while television blares out English in every home.
Follow Emirates 24|7 on Google News.