India nab 60kg gold from Gulf nation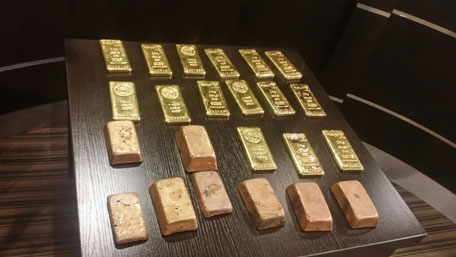 Police of the Indian state of Gujarat arrested six people who smuggled in a record 60kilos of gold into the country from a gulf country.
It is reported that the gold was valued at INR 16 crore (approx Dh9,478,408).
According to the Indian media NDTV, this is, by far, the single biggest seizure of gold smuggled into the country.
Police nabbed the six smugglers as they were leaving the Ahmedabad airport and loading the bags of gold into a car.
The smugglers reportedly told the police that traders paid them up to INR1 lakh (Dh5,925) for a trip plus free air tickets, food and hotel costs. They risk a jail term of up to seven years, although such a penalty is rare and the main deterrent is confiscation of the gold.
India is the world's biggest buyer of gold, and the high duty of 10 per cent on gold has made illegal shipments profitable.
The report highlights the World Gold Council estimating that 175 tonnes of gold were smuggled into the country last year.
Follow Emirates 24|7 on Google News.