India, Pakistan to 'de-escalate' border tensions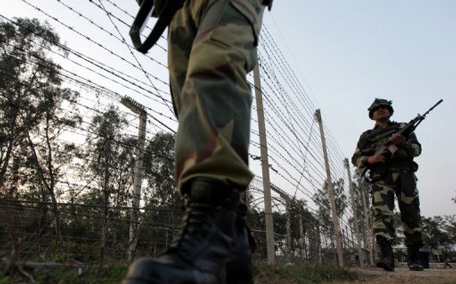 India's army has reached an "understanding" with Pakistan to "de-escalate" military tensions in Kashmir after a recent deadly flare-up in the disputed border region, a spokesman told AFP Wednesday.
"An understanding has been arrived at between the two director-generals of military operations to de-escalate the situation along the Line of Control (LoC)," army spokesman Jagdeep Dahiya said in reference to a de facto border in Kashmir.
Dahiya said that the two sides' senior military commanders had spoken for 10 minutes over the telephone where they reached their agreement.
"The two DGMOs spoke to each other at 10:00 am (0430 GMT) for 10 minutes and the Pakistan DGMO said strict instructions have been passed not to violate the ceasefire," he said.
Dahiya said Indian troops stationed along the border would also not breach the ceasefire forged between the two nuclear-armed rivals in 2003.
"We have always upheld the ceasefire and have only retaliated," the spokesman said.
He did not give further details of the conversation between India's DGMO Lieutenant General Vinod Bhatia and his Pakistani counterpart, Major General Ashfaq Nadeem.
The Pakistani military confirmed the telephone conversation between the two commanders took place.
It added in a statement "Pakistan lodged strong protest" over the killing of its soldier on Tuesday night.
"However both sides agreed on the need to reduce tension on the LoC."
An Indian military source in Kashmir told AFP there had been no cross-border firing since the two generals spoke.
Earlier, the village of Dara Sher Khan in Pakistan's Tatta Pani sector, where a solider was killed, appeared deserted on Wednesday as residents cowered in their homes.
Muhammad Afsar, a former army man, said he and his family hid under bedding in their newly-built house, which was damaged by mortar shrapnel fired by Indian gunners.
"Indian soldiers keep watching our activities and we live in a state of constant fear," he told AFP.
The two generals spoke hours after Pakistan's Foreign Minister Hina Rabbani Khar hit out at strident comments by Indian politicians over the clashes, and warned against "upping the ante" between the nuclear-armed neighbours.
Later on Wednesday Khar called for talks with her Indian counterpart to ease tensions over the recent flare-up.
Speaking in New York she said that 10 days of fighting over the unofficial border had "created questions" about relations but added that Pakistan was "open" to dialogue between foreign ministers to end the dispute.
Pakistan says three of its troops have died in three incidents since January 6. India says two of its soldiers have been killed, one of them beheaded, in hostilities along the LoC. It has demanded the return of the soldier's head which is still missing.
Khar, who on Tuesday accused India of "warmongering", was again critical of "very hostile, negative statements" made by Indian leaders in recent days. She added that there had been a "glaring difference" in the reactions of the two governments.
"We will be open to a discussion, a dialogue, at the level of the foreign ministers to be able to resolve the issue of cross-LOC incidents and to re-commit ourselves to the respect for the ceasefire."
India and Pakistan have fought three wars since their independence from Britain in 1947, two of them over the Himalayan region of Kashmir.
On Tuesday India was meant to begin allowing Pakistanis over the age of 65 to obtain a visa on arrival at the border in Punjab.
However the programme was put on hold indefinitely hours after Indian officials said it had come into force, although the delay was attributed to "technical" reasons.
Nine Pakistani players were also withdrawn from a new field hockey league in India and asked to return home.
Follow Emirates 24|7 on Google News.